I have never made homemade onions rings until now. I know. Was I crazy? Yes. They are going to be made more often now. I can't even look at the frozen kind you cook in the oven. Nope. Not a glance. These are incredible. I completely ate them all. Well, my husband had a few. Anyone who knows me, knows that I can out eat my 6 foot, two hundred something hubby. It's what I do.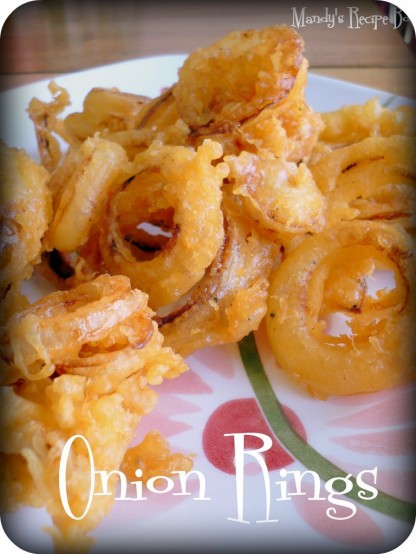 Onion Rings
Ingredients
¾ c. corn starch
¼ c. flour
1 tsp. baking powder
½ tsp. salt
½ tsp. pepper
½ c. water
1 egg
1 large onion, sliced into rings
Directions
Mix all ingredients together except the onion.
Dip onion slices in batter to coat.
Fry in oil in a fryer or a skillet.
Drain on paper towels.
*I dip these in Fry Sauce. Just mix some mayo and ketchup together. Or BBQ Sauce and mayo is good, too!