I found this simple recipe on
DinnerTool.com
.It is a great site that is made up of recipes from all kinds of sources. If you scroll to the very bottom of the page, you'll see "Contact Us, Help/FAQ, Friends". Click on the "Friends" link and you'll get a long list of people who have recipes on DinnerTool. If you look hard enough, you may see Mandy's Recipe Box listed. Neat-o. You can do a week's worth of meals by looking up ingredients and doing a search, or you can click one little button and it'll create a menu for you. I like it. This pasta dish is complete simplicity. I like it as a light meal or a side dish. For the husbands or meat-needers, you could add some chicken. I added Parmesan cheese to this, otherwise I wouldn't be able to live with myself.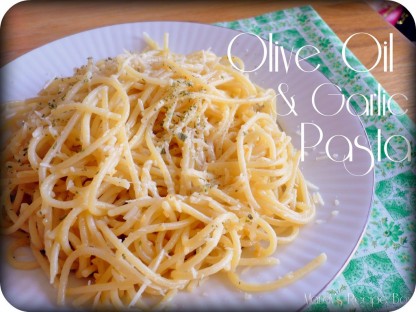 2 Tbsp. minced garlic
1/2 c. extra virgin olive oil
salt to taste
1 lb. linguine, spaghetti, or other long, thin pasta
parsley
shredded Parmesan cheese
Bring a large pot of water to a boil.
In a small skillet or saucepan over medium‐low heat, combine the garlic, oil, and salt. Allow the garlic to simmer, shaking the pan occasionally, until it turns golden; do not allow it to become dark brown or it will be bitter rather than sweet.
Salt the boiling water and cook the pasta until it is tender but firm. When it is done, drain it, reserving a bit of the cooking water. Reheat the garlic and oil mixture briefly if necessary. Dress the pasta with the sauce, adding a little more oil or some of the cooking water if it seems dry. Garnish with parsley and Parmesan cheese.