I have never made homemade donuts. I needed a treat to bring to my book club and was flipping through some Taste of Home magazines. Then I found one I had marked and it was for these donuts (or doughnuts if that's how
you
spell it). I thought, "why not?" and they were so good! They are a cake donut, so if you can make cut-out cookies and you can fry food, you can make these. I got about 18 out of my batch. I didn't use the donut holes, though. I just kept making more donuts instead by smooshing the dough back together. I will make holes next time. I used cinnamon and sugar as my coating. You could try powdered sugar and baking cocoa, or make a glaze like Cider flavored or Maple or fruit.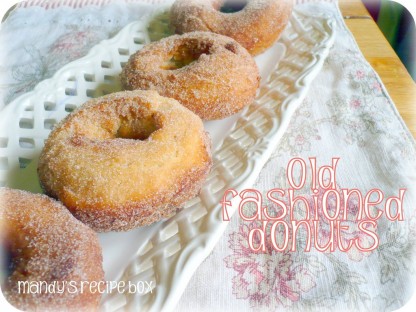 2 Tbsp. butter, softened
1 1/2 c. sugar, divided
3 eggs
4 c. all-purpose flour
1 Tbsp. baking powder
3 tsp. cinnamon, divided
1/2 tsp. salt
1/8 tsp. nutmeg
3/4 c. 2% milk
oil for deep frying
In a large bowl, beat butter and 1 c. sugar until crumbly, about 2 minutes. Add eggs. Combine the flour, baking powder, 1 tsp. cinnamon, salt, and nutmeg.Add to butter mixture alternately with the milk, beating well after each addition. Cover and refrigerate for 2 hours.
Turn onto a heavily floured surface; pat dough to 1/4 inch thickness. Cut with a 3″ donut cutter. (Or use a cookie cutter and a water bottle lid for the hole.) Fry donuts a few at a time to golden brown on both sides. Drain on paper towels. Combine the remaining sugar and cinnamon; roll warm donuts in mixture.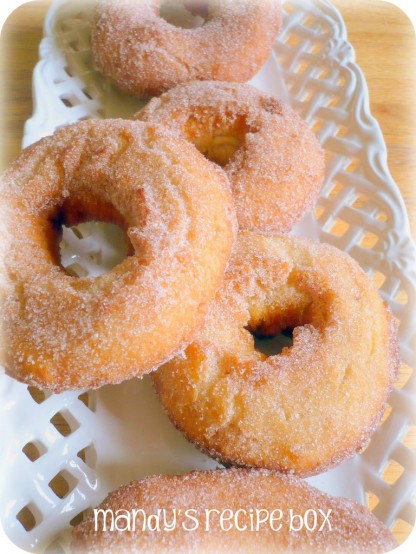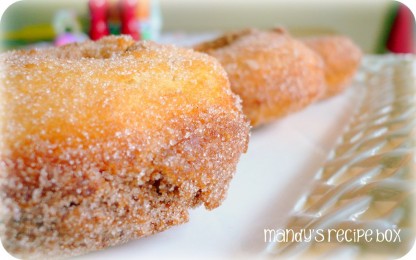 Just look at all that sugary goodness!
Optional Toppings…
Cider Glaze:
2 Tbsp. apple cider
1 Tbsp. cream
1 c. powdered sugar
Mix.
Maple Glaze:
1 c. powdered sugar
3-4 Tbsp. maple syrup
Mix.
Fruit Topping:
2 Tbsp. fruit jam
1 c. powdered sugar
2 tsp. milk
Mix.