This came from a Taste of Home magazine and it is my favorite baked beans recipe! It's in a slow cooker so it is way easy. Whenever I make these, there's never any left. I love that it uses canned Pork and Beans. All you do is dump it all in the slow cooker and you are free to kick your feet up with a good book and Diet Coke (or other beverage of your choice, but what else is there. Really).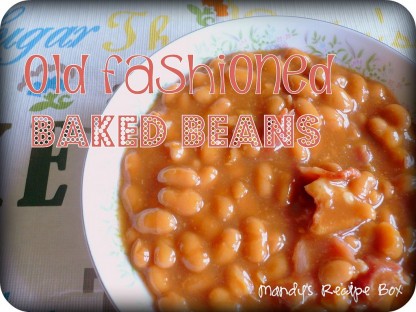 1 pound bacon, cooked, and cut into small pieces
1/2 c. chopped onion
3 (15 oz) cans of pork and beans
1 Tbsp. prepared mustard
1 c. brown sugar
2 Tbsp. vinegar
1/2 c. ketchup
Combine all in a slow cooker. Cook on low for 3-4 hours or til hot. You can also make this in your oven. Just put all ingredients into a 3 qt casserole dish and bake at 325 for 2 hours or at 200 for 6 hours. You can also make this ahead of time and freeze it.