Hi it's Mallory from
Chocolate with Grace
and I'm thrilled to be able to share a recipe with you again. Today you can feast your eyes on these Oatmeal Sandwich Cookies with Maple Buttercream Filling and hopefully fill your bellies with them soon!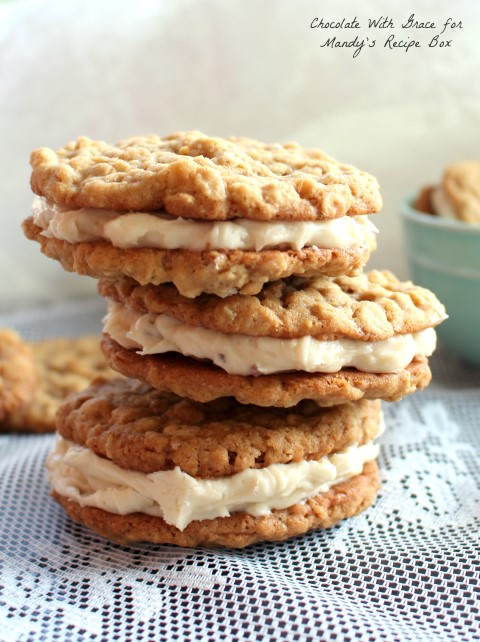 I know oatmeal cookies are often pushed to the shadows by the ever-popular chocolate chip, but for me oatmeal cookies have always been a bit special. While they're probably not the first cookie or bar I would crave, (I admit, I'm a fan of chocolate chip!) I have so many lovely childhood memories attached to them. They were my dad's favorite cookie, and every harvest we would make batches to be sent to the field in our lunches. I still remembering sitting in the big combine with my dad, watching the grain pour into the tank and eating oatmeal cookies. Eating an oatmeal cookie still brings back vivid memories of harvest for me.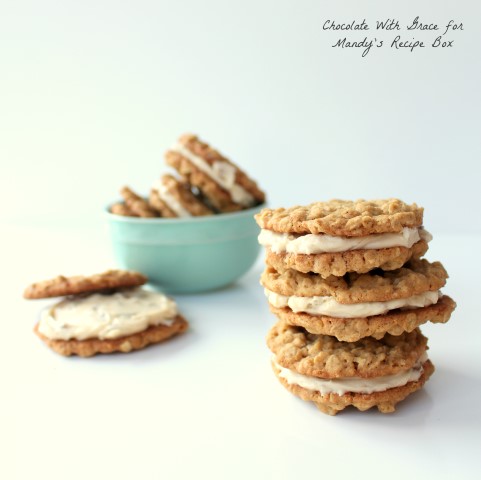 Since there are probably about 30 million recipes floating around the internet already for regular oatmeal cookies, I decided to add an extra bit of fall flair by adding some maple buttercream to make them sandwich cookies. Besides, sandwich cookies are so much fun to eat! First of all, because you get to eat two cookies at once, and second, because you get to frosting with them! However, if you want a simpler treat, feel free to make the cookie sans frosting. For another way to dress up oatmeal cookies, check out my Cranberry White Chocolate Oatmeal Cookies.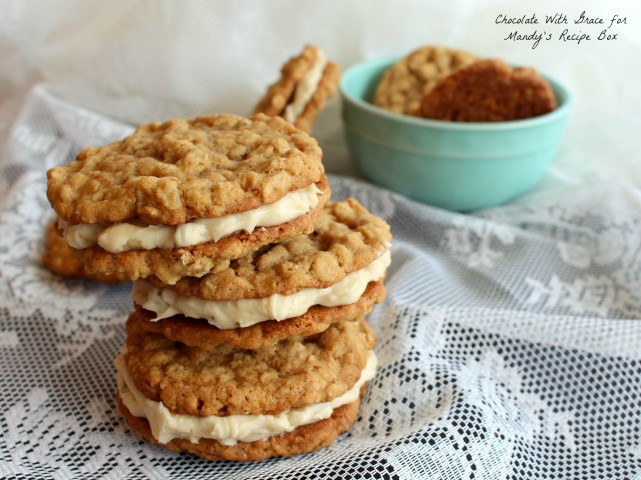 • 1/2 cup butter, softened
• 1/2 cup dark brown sugar,
• 1 teaspoon vanilla extract
• 1 cup all purpose flour
• 1 and 2/3 cups rolled oats
For the Maple Buttercream
• ¼ cup butter, softened.
In a large bowl, cream butter and white and brown sugar until smooth. Beat in eggs and vanilla.

Combine the flour, cinnamon, baking soda, and salt in a separate bowl. Stir the flour mixture into the butter and sugar bowl. Gently stir in rolled oats.

Roll the dough into balls and chill for about 30 min. Preheat the oven to 325 F. Bake the cookies for 10-11 min or until lightly browned. Do not over bake. Let cool on the cookie sheets for a few minutes and then transfer to a wire rack to cool completely.

To make the buttercream, beat the butter with a mixer on high speed for 2-3 minutes. Add the maple syrup and powdered sugar and beat until smooth.

To assemble the cookies spread a tablespoon or two of buttercream on the back of a cookie. Top with another cookies. Makes about 10 Sandwiches.
Thanks for letting me share with you today! If you have a minute, stop by my
blog
or follow me on social media.