Ever since these were linked up on Totally Tasty Tuesdays a few weeks ago, I knew I had to make them.
I love the Little Debbie Oatmeal Cream Pies. They are the only Little Debbie treat that I like. Something about their chocolate is too waxy to me.
But I could eat these cookies all day long.
I made a few adjustments and they are pretty good.
Not the same as Little Debbie's, but they would do when I get the craving and I don't have any in my pantry.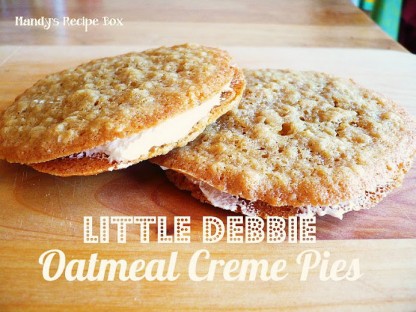 1 Tbsp.
molasses
1/2 tsp.
Kosher (coarse) salt
1 tsp. baking soda
1/8 tsp. cinnamon
1 1/2 c. quick oats
Cream Filling:
2 tsp. very hot water
1/4 tsp. salt
1 (7 oz.) jar marshmallow cream
1/2 c. shortening
1/4 c. powdered sugar
1/2 tsp. vanilla
Directions
In a large bowl, cream together butter, sugars, molasses, vanilla, and eggs. Add the flour, salt, baking soda, and cinnamon. Mix in the oats.

Drop by just-under-a-Tablespoon onto greased baking sheets.

Bake 10 minutes, or until just starting to brown around the edges. They will look moist, do not overcook!

While the cookies are baking prepare the filling.

In a small bowl, dissolve the salt in hot water. Allow this to cool. Combine marshmallow cream, shortening, powdered sugar, and vanilla in a bowl. Mix on high until fluffy.

Add the cooled salt water and mix well. Spread filling on the flat side of one cookie. Top with another cookie flat side down.