Mormon Muffins are perfectly soft and fluffy. No boring bran muffins here! Serve them with honey butter and you're all set.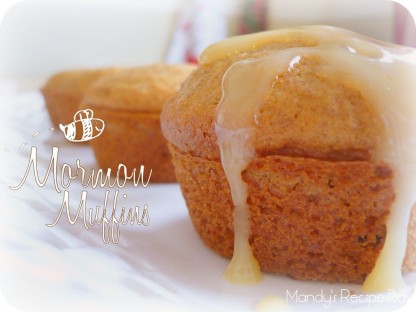 Oh these are just from Heaven. You must eat them warm with honey butter. You must. They come from one of my favorite restaurants,
The Greenery
. That's where my favorite sandwich 
Fowl Play
comes from, as well. Mormons settled in Utah way back in the day (1847) and that's where the name comes from. These are not your boring bran muffins. These are incredible and you won't even know they are made of anything resembling healthy. Not that they taste junk foody (new word, ladies and gents), because they don't. They just don't taste like boring, healthy food. They make me close my eyes every time I eat one. Every time. Ask my husband, who rolls his eyes at me each time.  The mix will last in the fridge for one week, so you can make these as you want them and they will be fresh!
Mormon Muffins
Ingredients
1 c. boiling water
2½ tsp. baking soda
½ c. shortening
1 c. sugar
2 eggs
2 c. buttermilk
2½ c. flour
½ tsp. salt
2 c. All Bran cereal
1 c. 40% bran flakes
½ c. chopped walnuts
Directions
Add soda to boiling water and set aside.
Whip shortening and sugar until light and fluffy.
Add the eggs and mix well.
Add the buttermilk, flour, salt; mix again.
Add the soda water very slowly.
Gently fold the cereals and the walnuts into the mix.
Muffin mix must sit in the refrigerator over night before baking.
Grease the tops and inside of muffin pans (these will go over the tops of the tins). Spoon batter into muffin tins to the top.
Bake at 350 degrees for 30 minutes. Let cool for 5 minutes.
Notes
Muffin batter will last one week, covered and refrigerated.
Makes about 2 dozen regular sized muffins. Try these in jumbo muffin tins. They'd be fabulous!