I am in love with cupcakes lately. I love everything about them. They are tasty, versatile, and just so darn cute. I came across this recipe from My Baking Addition. I had to make them and share them with you. I love mint chocolate food. Thin Mints from those darn Girl Scouts, the new minty 3 Musketeers bar, and this cupcake. Don't make these if you do not want to develop an addiction.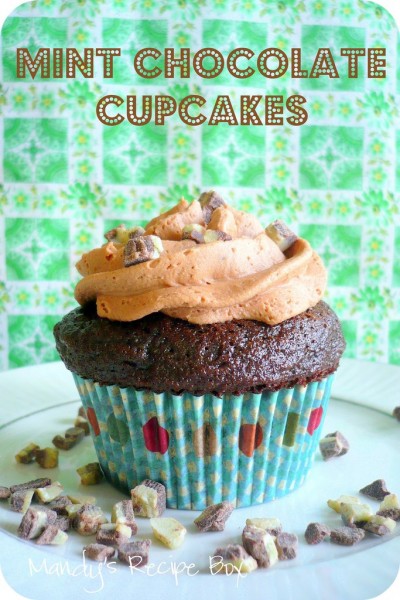 Cupcakes
3/4 cup unsweetened cocoa powder
1 1/2 cups all-purpose flour
1 1/2 cups sugar
1 1/2 teaspoons baking soda
3/4 teaspoon baking powder
3/4 teaspoon kosher salt
2 large eggs
3/4 cup warm water
3/4 cup buttermilk
3 tablespoons vegetable oil
1 teaspoon vanilla extract
1 cup Andes mint chips plus more for garnish
Preheat oven to 350 degrees. Line standard muffin tins with paper liners; set aside. Sift together cocoa powder, flour, sugar, baking soda, baking powder, and salt into a large bowl. Add eggs, warm water, buttermilk, oil, and vanilla, and mix until smooth, about 3 minutes.Using a large scoop (about 3 tablespoons), divide batter evenly among muffin cups, filling each 2/3 full. Sprinkle Andes Mints onto the surface of each cupcake. Bake in preheated oven for 18-20 minutes or until tops spring back when touched. Transfer to a wire rack; let cool completely.


Frosting
1 1/2 sticks unsalted butter, softened
1 pound powdered sugar
pinch of salt
1 teaspoon vanilla extract
1/2 teaspoon peppermint extract
2 1/2 ounces bittersweet chocolate, melted and cooled
2-4 tablespoons heavy cream
In the bowl of a stand mixer, fitted with the paddle attachment, or with a hand mixer in a large bowl, beat butter on medium speed until fluffy. Turn your mixer down to low speed and slowly add in the confectioner's sugar, and continue mixing until well blended. Add salt, extracts, and 1 tablespoon of heavy cream and blend on low speed until moistened. Beat in melted chocolate until combined and no white streaks remain. Add an additional 1 to 2 tablespoons of heavy cream until you reach the desired consistency. Beat at high speed until frosting is smooth and fluffy. Pipe frosting onto cooled cupcakes and top with Andes mint chips.