Mexican Chicken Casserole is a hearty and comforting dish. It's an easy recipe that your whole family will love.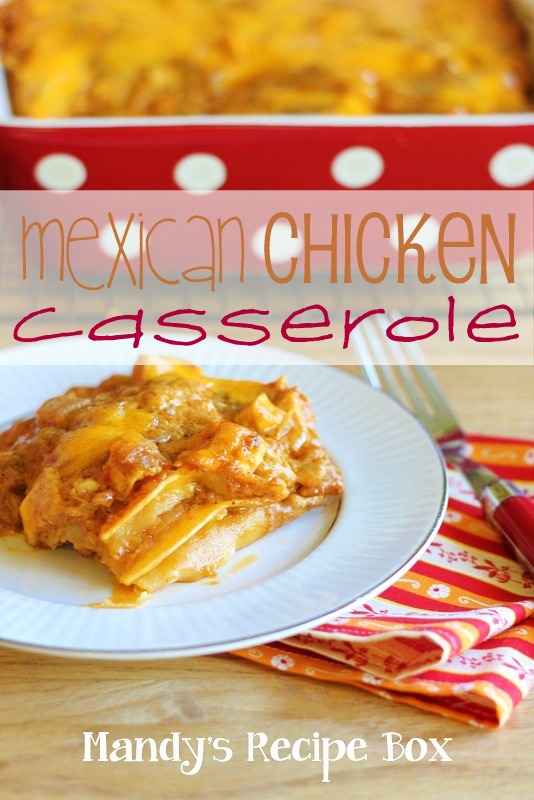 I love casseroles. They are also known as a hot dish. Just stuff put together and baked in the oven. Total comfort food. Not that many of you are feeling like using your oven right now. But when you are ready, this is a great dish.
I usually never look forward to winter. Until this summer. Oh. I'm ready. Not just for fall, which around here lasts about a week and then it's right into winter, but bring on the snowy blizzards and hot chocolate. I can't wait.
Ingredients
2 (4.5-ounce) cans chopped green chiles, divided
1 3/4 pounds skinned, boned chicken breasts
1 cup (4 ounces) shredded Monterey Jack cheese
1/4 cup (2 ounces) cream cheese
1 (10-ounce) can enchilada sauce
12 (6-inch) corn tortillas
1/2 cup (2 ounces) shredded sharp cheddar cheese
1 ounce
tortilla chips, crushed (about 6 chips)
Combine broth and 1 can of chiles in a large skillet; bring to a boil. 

Add chicken; reduce heat, and simmer 15 minutes or until chicken is done, turning chicken once.

Remove chicken from cooking liquid, reserving cooking liquid; cool chicken. 

Shred meat with two forks, and set aside. 

Preheat oven to 350°. 

Heat oil in a large nonstick skillet over medium-high heat. 

Add 1 can of chiles and onion; sauté 3 minutes or until soft. 

Add reserved cooking liquid, milk, Monterey Jack, cream cheese, and enchilada sauce; stir well. 

Stir in shredded chicken; cook 2 minutes.

 Remove from heat.

 Place 4 tortillas in the bottom of a 2-quart casserole dish coated with cooking spray.

 Spoon 2 cups chicken mixture over tortillas. 

Repeat layers twice, ending with chicken mixture. 

Sprinkle with cheddar cheese and chips. 

Bake at 350° for 30 minutes or until thoroughly heated.

 Let stand 10 minutes before serving.
Recipe Adapted from Cooking Light.