Another yummy recipe from my mother-in-law! This is made with orange jello and vanilla pudding, so you get both tastes. Your mouth will wonder if this is jello or pudding? Either way, it's addicting and delicious! You can also use a different flavor of jello. I've made it with strawberry-banana jello and it is good!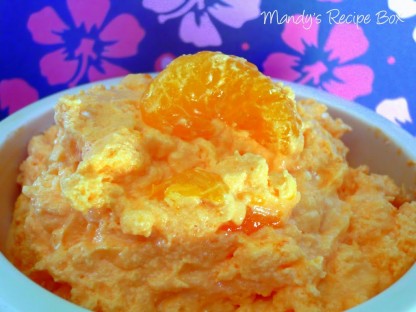 1 large package orange Jell-o
3 C. water
1 large package Cook and Serve Vanilla pudding mix
2 small cans or 1 large can mandarin oranges, drained
1 pint whipping cream, whipped or 1 (8 oz.) Cool Whip
Stir together in a saucepan the pudding mix and water. Stir in the Jell-o and cook till slightly thickened. Place in a large bowl and refrigerate until thickened, but not set. Add whipped cream or Cool Whip. Fold in mandarin oranges. Refrigerate until set.