Winter means getting all cozy and having a nice bowl of soup for dinner. It means snuggling up with a good book and cup of hot cocoa. It means snow.
I don't know about you, but here in Idaho there's not been snow. Not any.
Not even for Christmas.
Then this last weekend and this week we finally got some.
When we were in California with the beautiful weather of mid 70's to 80's, soup did not even cross my mind. And this was just after Christmas.
Until this lady walked passed me in Disneyland carrying a bread bowl filled with soup. I was sweating and she's eating soup?
I don't think I would ever crave a hot bowl of soup if I lived somewhere that's warm all the time. So in a way, I'm thankful for the cold weather here. It makes me enjoy soup.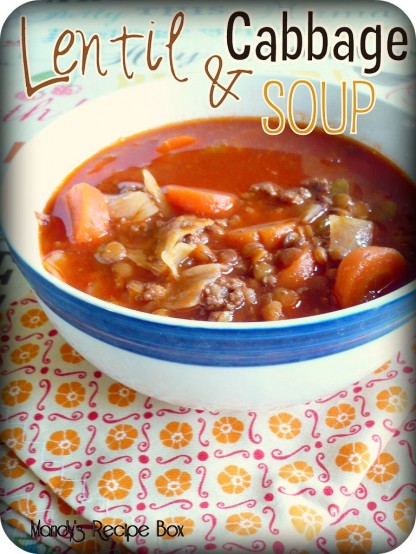 Ingredients
1 c. chopped green cabbage
1 c. sliced carrots (or 1 can carrots)
2 beef bouillon cubes or 2 tsp. beef bouillon powder
1 large can of tomato juice
Directions
Cook the ground beef in a large pot with the onions.

Add the rest of the ingredients.

Simmer until the lentils and cabbage are soft.
*Lentils: Cover with water in a saucepan. Bring to a boil and boil for about 5 minutes. Drain and add to the soup with the rest of the ingredients. This makes the soup cook faster.
Don't be scared of lentils! They just taste like little teeny beans. They have that same texture. They are so cheap and make such a great addition to many soups.