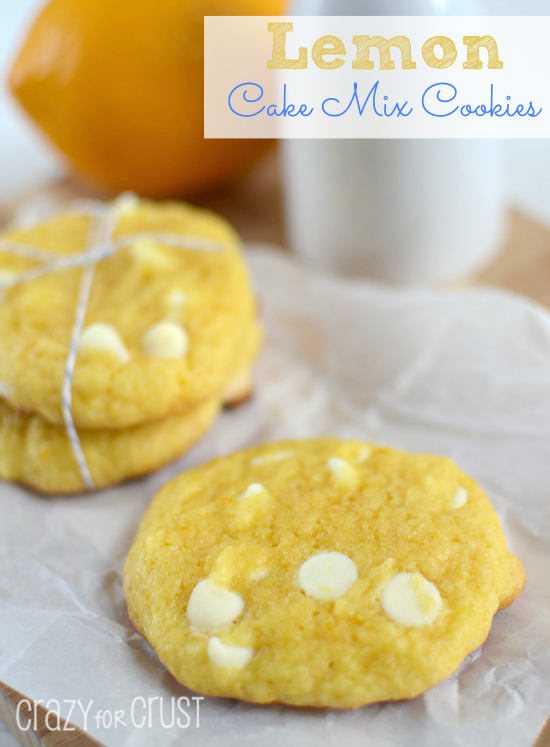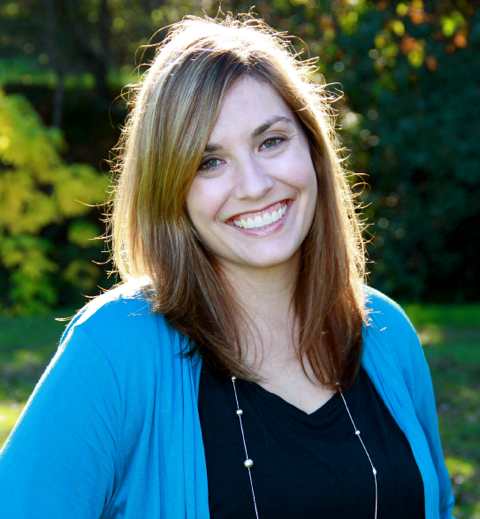 I'm so excited to be here at Mandy's house today, because that means she's off having her baby! What a sweet time for her family, I'm so happy for them!
Anyway, you might ask me: why are you called Crazy for Crust when you brought cookies to Mandy's for the day? Well, that's a good point. I do love crust, but I love other things too. Like brownies, cakes, pie, and sugar in general.
And, lately anyway, you may say I'm Crazy for Lemon. I've made
fudge
,
sweet rolls
, and
ice cream
just since Christmas. And, I have a gazillion more recipes lined up. So, yeah. Crazy for Lemons should be my new name.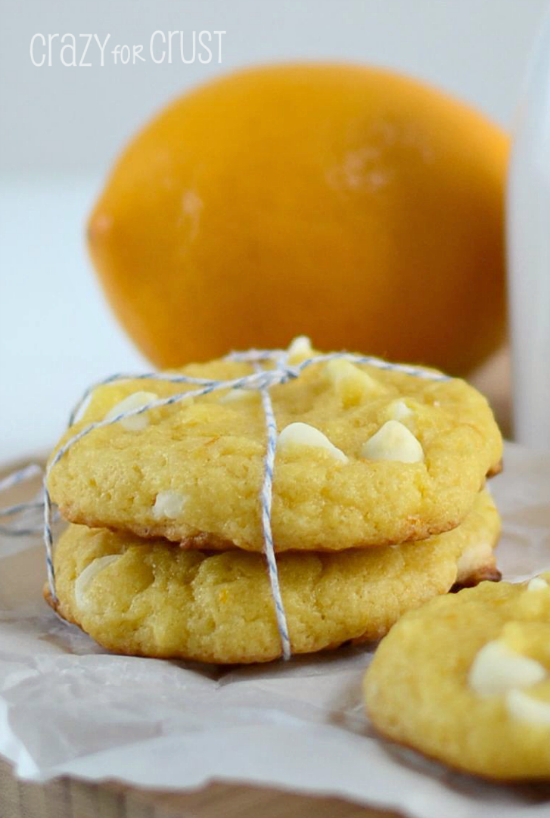 You might look at these and say, duh Dorothy. Lemon Cake Mix cookies. Just buy a box of lemon cake mix and I can do that! Well, um, no. These are different!
I used a regular old yellow cake mix for these – so they have a distinct cake battery flavor. Then I added Meyer lemon juice and zest to them. Have you ever had Meyer lemons? The smell is intoxicating. But if you only have regular lemons, that's fine too. These will be perfectly lemony no matter which lemon you use.
This is a small batch of cookie. It uses part of a cake mix – and makes less cookies, just over a dozen. So you can eat the whole batch and not feel guilty! It's a win-win!
And then there's the white chocolate. Lemon and white chocolate go together like Mork and Mindy, Rachel and Ross, and peanut butter and chocolate. They are the perfect match!
Combined, all these things (lemon, white chocolate, and cake mix) mix up to a delicious cookie, sweet and a teeny bit tart from the lemon. They are one of my favorites!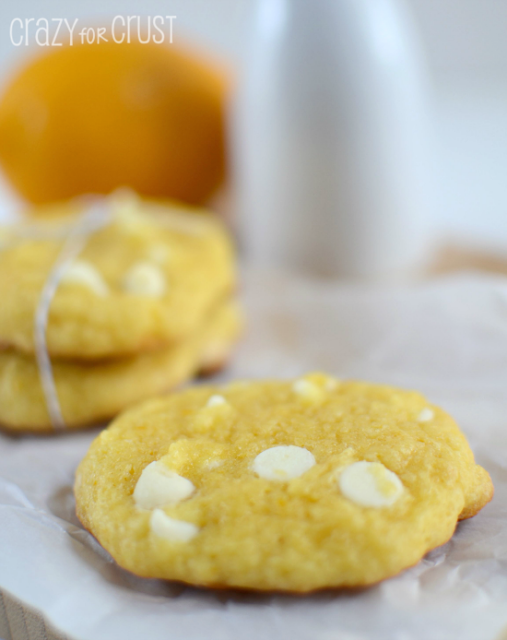 Kind of like Mandy. 🙂
Congrats on your new addition Mandy! I hope that you're all doing well and sleeping through the night already. xo
Come visit me over at
Crazy for Crust
sometime. I'll make you some crust, I promise. And some blondies. And ice cream. Oh, and if you didn't already figure it out, I'll talk your ear off too. 😉
Connect with me:
Lemon White Chocolate Cake Mix Cookies
by Dorothy @ CrazyforCrust.com
1 3/4 cups yellow cake mix
1/4 cup vegetable oil
1 large egg
1 tablespoon lemon zest
2 tablespoons lemon juice
(Both zest and juice were from 1 large Meyer lemon – with smaller lemons you may need 2!)
1 tablespoon flour
1/2 cup white chocolate chips
Preheat oven to 350 degrees. Line a cookie sheet with parchment paper.
Add cake mix, oil, and egg to a large bowl. Stir to combine. Add lemon juice, zest, and flour and stir until the mixture comes together. Stir in white chocolate chips.
Chill your dough for at least 30 minutes before baking.
Scoop tablespoons of dough (I used a 2-tablespoon cookie scoop) onto your cookie sheet. Bake 8-10 minutes until they just start to brown on the bottom. Cool 10 minutes before removing from cookie sheet.
Enjoy!