I love lemons. I love them in
Lemon Bars
, Lemonade, Diet Coke, you name it. I love them. So naturally I love them in this form. With blueberries. They just go together so nicely. They are buddies, lemons & blueberries. This dessert is so creamy that it's like a pudding. I love the tang of the lemons. Throw in some plump blueberries and you've got yourself a fabulous summer treat.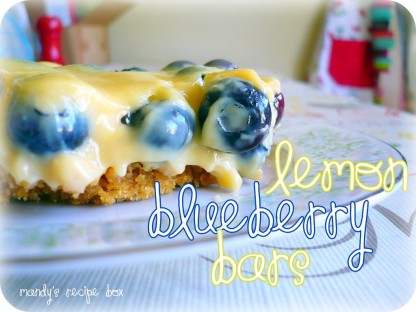 For the crust:
1 1/2 c. graham cracker crumbs
6 tablespoons butter, melted
1/4 cup granulated sugar
Zest of one lemon
For the filling:
2 large egg yolks
1 (14 ounce can) sweetened condensed milk (fat free works well)
1/2 cup fresh lemon juice
Preheat the oven to 350 degrees F. Spray an 8×8 inch baking dish with cooking spray. Set aside. In a medium bowl, combine the graham cracker crumbs, melted butter, sugar, and lemon zest. Stir until graham cracker crumbs are moist. Press crumbs firmly into prepared pan. Bake the graham cracker crust for 10 minutes. Remove from oven and allow to cool to room temperature.
To make the filling, combine the egg yolks and condensed milk in a medium bowl. Stir in the lemon juice and lemon zest. Stir until mixture is smooth and begins to slightly thicken. Gently fold in the blueberries.
Pour the lemon blueberry filling evenly over the graham cracker crust. Bake for 15 minutes, or until just set.
Cool to room temperature, then chill in the refrigerator for at least one hour before serving. Cut into bars and serve.
Refrigerate any leftovers.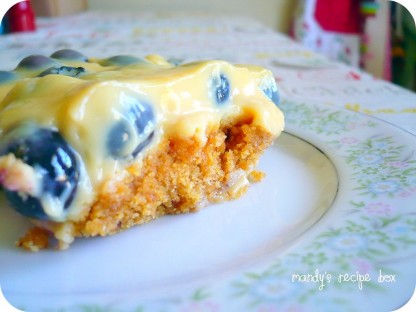 This recipe may have been linked to these parties.