Jalepeno Popper Pull-Aparts are little bites of spicy goodness. Filled with cream cheese and jalepenos, these won't disappoint!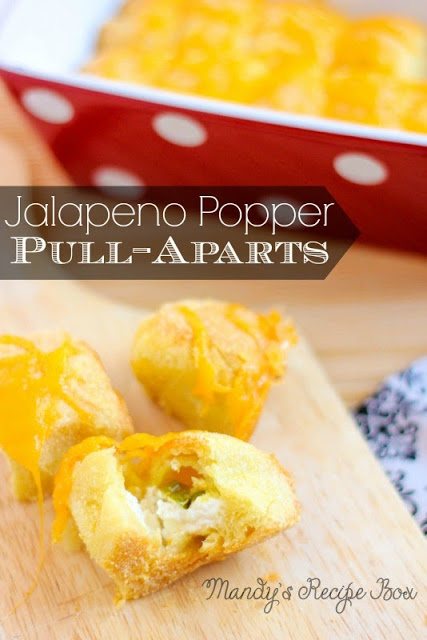 I never used to like Jalapenos until I met my husband. He loves spicy food. The spicier the better. Even though I have a Hispanic background, I am a wimp when it comes to spicy food. I love Mexican food, but in a mild form. Now I love jalapenos. And I really love Jalapeno Poppers. So this Pull-Apart version is perfect. The bread helps tame the spicy jalapenos. My husband inspected one and asked how I got the filling inside since there were no holes or seams showing. I just said that I am magic. He then rolled his eyes and popped it in his mouth. We're cool like that.
Jalepeno Popper Pull-Aparts
Ingredients
1 can crescent rolls or crescent sheet
¼ C. cream cheese
12 jalapeno slices
¼ C. shredded cheddar cheese
¼ C. cornmeal
2 Tbsp. butter, melted
Directions
Open rolls or crescent sheet and unroll. If using rolls, do not separate into triangles; press seams together.
Using a pizza cutter, cut into 12 squares.
Place 1 tsp. cream cheese and 1 jalapeno slice onto each square.
Bring corners together and pinch to seal.
Roll in cornmeal and place seam side down in a greased loaf pan.
Pour melted butter over rolls and bake at 350 for 20-25 minutes until golden.
Sprinkle cheese over rolls and bake 1 minute until melted.
Remove from oven and serve.
Notes
You can double this and bake it in a 8x8 or 9x9 dish.