We are so glad to be back with our friends at Mandy's Recipe box. I have a recipe that is perfect for a nice summer meal, but won't take much time in the kitchen. A little advanced prep and you will be ready to go!
I like cheesey movies. Formulaic, cliche and predictable. One of my favorite scenes in thousands of cheesey movies is the girl who is a bit of a tomboy who gets dressed up for the dance. When she enters the room transformed, the boys turn and stare. They say, "Mary, is that you? You look …different…beautiful." That is how I felt about this Ice Cream Dream Cake. I took one bite and said, ice cream sandwich, is that you? You taste…different…fancy…possibly gourmet.
What do you need to do to transform your humble ice cream sandwiches into Ice Cream Dream Cakes? It's just too simple! Layer them in a bread pan with whipped cream, top with chopped chocolate and freeze. Who couldn't do that? I am busy thinking of all the possibilities like cookies and cream or mint chip ice cream sandwiches. Don't tell anyone it is made with ice cream sandwiches, and see if they recognize them on their own!
This recipe appropriately comes from Real Simple, and that is exactly what this is!
Ice Cream Dream Cake
Author:
Made From Pinterest
Ingredients
1 cup heavy cream whipped to peaks with 2 tablespoons confectioners' sugar
6 ice cream sandwiches (3.5 ounces each)
½ cup chocolate chips, chopped - I used Hershey Kisses
Directions
Line an 8½-by-4½-inch loaf pan with a piece of wax paper or parchment, allowing the paper to hang over both long sides.
In the bottom of the pan, arrange 3 of the sandwiches in a single layer, cutting them to fit as necessary. Spread with half the whipped cream. Repeat with the remaining sandwiches and whipped cream.
Sprinkle the top of the cake with the chopped chocolate chips or Hershey's Kissses. Cover with plastic wrap and freeze until firm, at least 1 hour and up to 1 week.
Holding both sides of the paper overhang, lift the cake out of the pan and transfer to a platter. Discard the paper and serve.
Notes
Try piping the whipped cream on the top layer for an even more beautiful presentation!
For whipped cream that holds it's shape try our
Stabilized Whipped Cream
. We found a simple secret that makes it lasts for weeks. Bet you won't guess what it is!
Here are a few other posts great for summer! Mango Sorbet and Mango Strawberry Daiquiri Pops.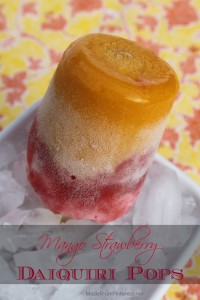 Thank you Mandy for having us on your blog again! We love to share with your readers and make new internet friends.