These Hot Cocoa Cookies are the perfect winter treat. Rich, chocolate flavor topped with puffy marshmallows and chocolate shavings make the perfect cookie.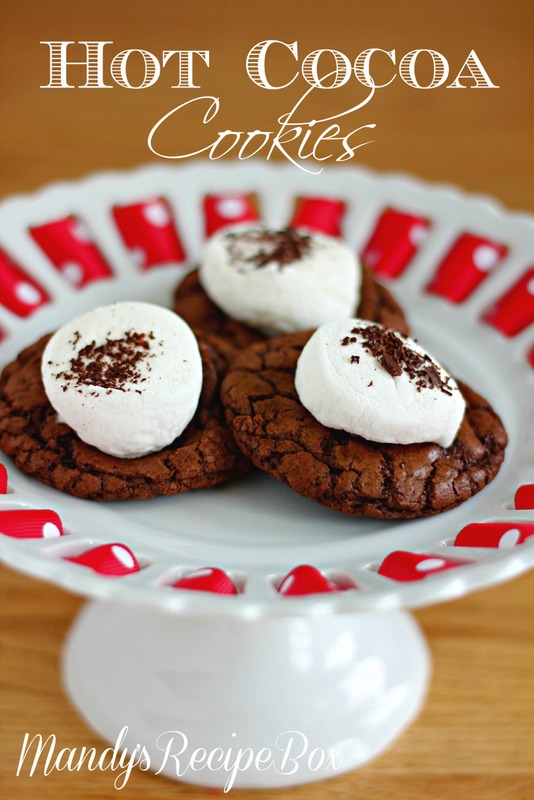 I've seen such a variety of weather going on throughout the country this week. In some places you've got 80 degree weather, some it's 30's and then there's the area that's getting like 2 feet of snow. We have had extremely cold weather , but not a lot of snow this past week. Just minus temps that leave me frustrated.
Let me explain.
One day I went to drive my Tahoe. There was no power steering. It started up and would drive, just no steering. My neighbor looked at it and found that the engine belt had come off. In it's place was a chunk of cat fur. Yep. A cat got up inside to get warm and when I started it, it gave the cat a haircut while throwing the belt off. He was able to fix it and then it was fine.
A few days later, it wouldn't start at all. The battery was dead since it was so cold, so another neighbor jump started it for me.
All while Lance is gone and me 33 weeks pregnant.
And just for fun, Hannah came down with strep throat yesterday.
Excuse me while I go shove about 8 of these cookies in my face.
Hot Cocoa Cookies
Ingredients
1 stick of butter (4 oz.)
12 oz. semisweet chocolate chips
1½ C. flour
¼ C. unsweetened cocoa powder
1½ tsp. baking powder
¼ tsp. salt
1¼ C. light brown sugar
3 eggs
1½ tsp. vanilla extract
8 oz semisweet chocolate bars, cut into 1 inch pieces
16 regular marshmallows, cut in half crosswise
Directions
In a saucepan, melt the butter and 12 oz. chocolate chips; stir frequently over medium heat until smooth.
Let cool 5 minutes.
Meanwhile in a mixing bowl, beat together brown sugar, eggs, and vanilla.
Beat in cooled chocolate mixture just until blended.
Add the cocoa powder, flour, baking powder, and salt.
Mix on low until just combined.
Refrigerate the dough for at least 1 hour.
Preheat the oven to 325 degrees F.
Line a baking sheet with parchment paper or spray with cooking spray. The parchment paper worked so wonderfully so I recommend using that.
Using a tablespoon, scoop the dough and roll between your hands to make 1 inch balls.
Place 16 balls 2 inches apart on a cookie sheet.
Bake 12 minutes.
Meanwhile, cut the chocolate. I used Baker's chocolate and cut them into 1 inch pieces.
Place each piece on a cut marshmallow.
Remove cookie sheet from oven and place a chocolate/marshmallow pair on each cookie, chocolate side down.
Bake another 4 minutes until marshmallows are softened.
Remove pan and let cool 5 minutes.
Grate some chocolate over the cookies before transferring cookies to cooling rack.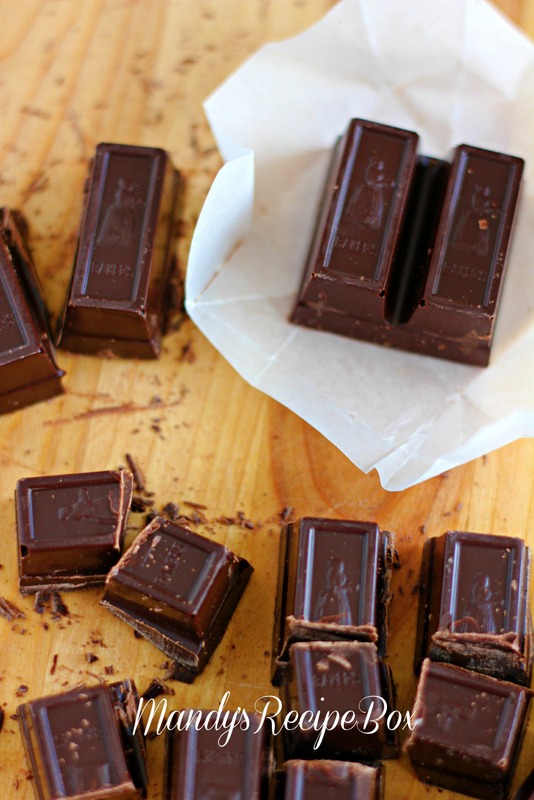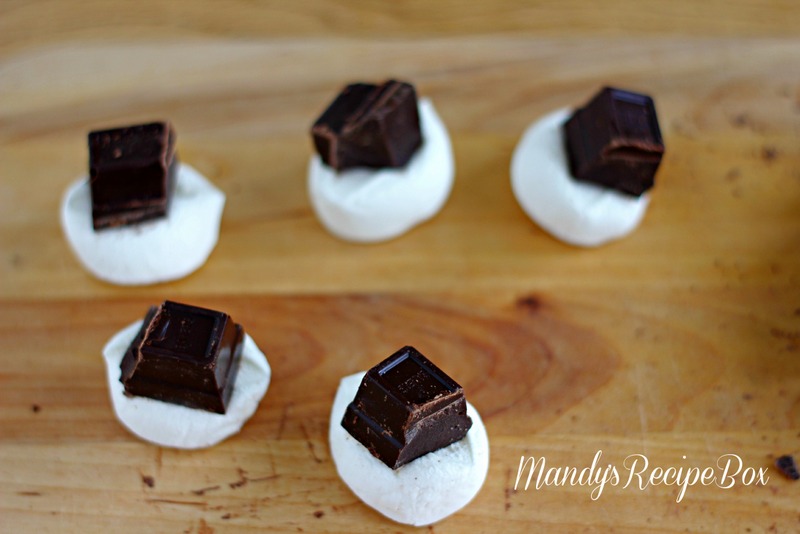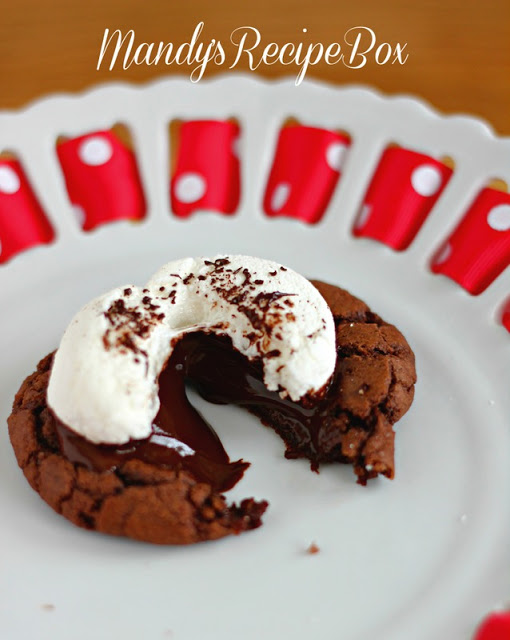 Look at the ooey-gooeyness!
You're welcome.
Adapted from Rachel Ray magazine