Honey Lime Chicken Enchiladas are full of amazing flavor. They taste even better the next day as leftovers!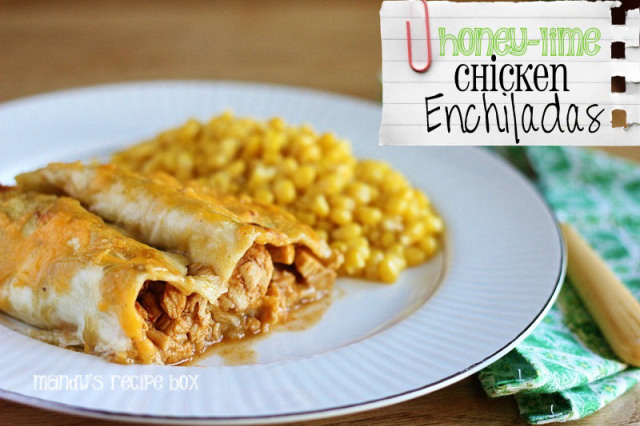 All right! Something that isn't a sweet! Finally. I've had my share of treats over the holidays and I'm ready to back off. I heard about this recipe from a friend of mine and I'm so happy I did. I believe it is my new favorite enchilada. I think it tastes even better the next day as leftovers. The flavors have settled so good by then. Make these tonight. That's your assignment for the day.
Honey-Lime Chicken Enchiladas
Ingredients
6 Tbsp. honey
4.5 Tbsp. lime juice
1 Tbsp chili powder
½ tsp garlic powder
1 lb cooked chicken, shredded (you can also use shredded pork. That's what I did here.)
8-10 flour tortillas
colby or monterey jack cheese, shredded
16oz. green enchilada sauce
Directions
Mix first 4 ingredients together and toss with shredded chicken. Let it marinate for at least a half hour.
Pour some green enchilada sauce on the bottom of a 9x13 pan.
Fill flour tortillas with chicken and shredded cheese. Roll up and place seam side down in the dish. Pour the rest of the can of green enchilada sauce over enchiladas then sprinkle with more cheese.
Bake at 350 for 30 minutes. (Put it under the broiler at the end to make the cheese brown and crispy on the top.)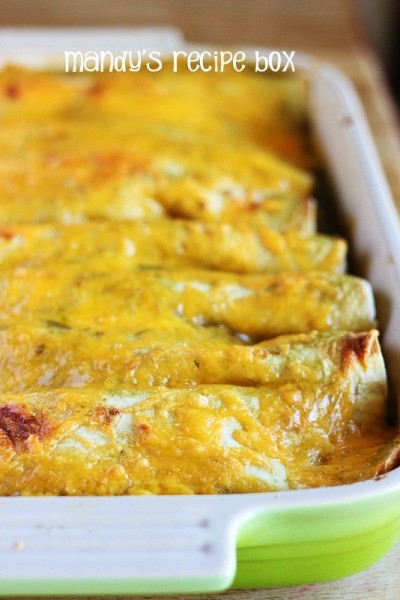 Those brown spots on the cheese are what you're going for.