Homemade Flour Tortillas are so easy to make that you need to add them to your Mexican meals. Slather them with butter and be amazed.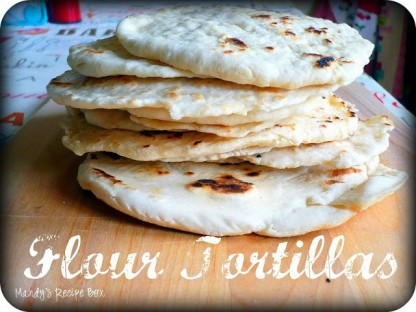 I come from a Hispanic background. My grandparents were hispanic and my dad is. So homemade tortillas were common at our table. They are so easy to make, faster than bread. All you do is mix, roll, cook.  A Tortilla Press
helps speed things up, but a rolling pin does the job just fine.
Flour Tortillas
Ingredients
3 C. flour
1 Tbsp. shortening
1½ tsp. baking powder
1 tsp. salt, to taste
warm water, to texture
Directions
Put dry ingredients into a large bowl and add enough warm water to mix with. Mix with your hand or wooden spoon, but using your hand puts the love into it. You don't want it sticky. Kind of like bread dough.
Pinch off balls the size of your fist and, on a lightly floured surface, roll out into tortillas.
Cook on an iron cast skillet if you have one. If not, a regular one will do. My grandmother gave me mine when I went off to Utah State University so that I could make tortillas.
Flip over and cook the other side.
Place in a tortilla warmer or between a dish towel (flour sack towels are best) to keep warm.