My sister-in-law Heather and brother-in-law Blaine came over last Saturday and Heather made this vanilla ice cream, which was delicious. So here is the recipe with a picture featuring Heather's hand : )
Homemade Vanilla Ice Cream
1 c. milk
1 c. heavy cream
1/2 c. sugar
1/2 t. vanilla
rock salt
ice
Put all ingredients in the ice maker.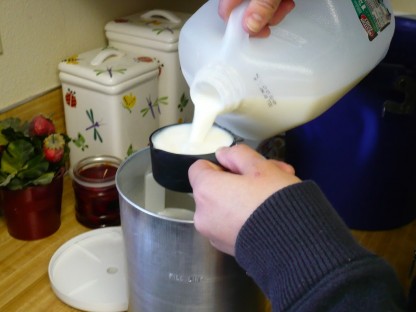 Follow your ice maker's instructions and voila!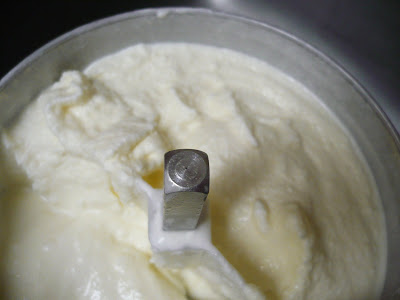 Delicious ice cream! Top with toppings of your choice, but might I recommend my mom's homemade hot fudge sauce?
Hot fudge sauce
1/4 c. margerine
1 1/2 c. sugar
1 can evaporated milk
6 Tbsp cocoa
2 Tbsp corn syrup
1 tsp vanilla
Melt margerine in a saucepan. Add sugar and corn syrup, stir til sugar dissolves. Add milk and cocoa and whisk til smooth. Cook on med til boiling, stirring so the bottom doesn't burn. Lower heat to a simmer and let it go til it is as thick as you want it, stirring occasionally. It can take anywhere from 15 to 45 min to get thick so don't worry. After it is how you want it, add vanilla. Stir and indulge!
Here's another ice cream recipe that you can try:
1 small instant pudding (your choice of flavor)
2 (6 oz each) cans evaporated milk
1 to 1 1/2 c. milk.
Put in your ice cream maker and follow its instructions.