This Heavenly Mint Oreo Dessert is a refreshing mint version of the classic Heavenly Oreo Dessert. It is guaranteed to be a crowd favorite any time you serve it.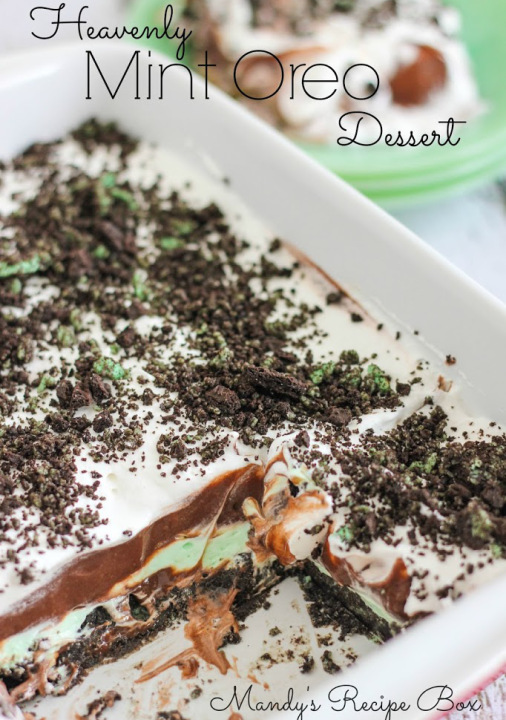 Once upon a time I made this little dessert called Heavenly Oreo Dessert. Oh wow. Little did I know how it would be so popular. But, duh. Think about it… Oreos, pudding, Cool Whip, butter. Of course everyone would love it. So then I made other versions. Lemon, Pumpkin and now Mint. Watch out, this will knock your socks off. For real.
I used Mint Oreo cookies and added some green food coloring to the cream cheese mixture. That's all the mint I used. It was perfectly minty. If you like a stronger mint flavor you could add a dash of mint extract to the cream cheese mixture or pudding.
Heavenly Mint Oreo Dessert
Ingredients
1 package Oreo Mint Crème Cookies, 15.25 oz
½ c. butter, melted
2 pkg. (3.9 oz each) Chocolate Instant Pudding
3¼ c. cold milk
2 containers (8 oz. each) Cool Whip
8 oz. cream cheese, softened
1 c. powdered sugar
Directions
Directions
Crush all Oreo cookies in a food processor until crushed. You could also put the cookies in a large resealable bag and crush using a rolling pin.
Save ½ cup of the crumbs for the topping.
Pour the remaining crumbs into a 9x13 dish and add the melted butter.
Stir and press into the bottom of the dish to make a crust.
In a bowl, whisk together the pudding mix and milk.
Set in the fridge for now.
Blend cream cheese until smooth.
Add powdered sugar.
Mix and fold in one container of Cool Whip.
Spread over the crust.
Add pudding and spread over the cream cheese mixture.
Top with the other Cool Whip.
Sprinkle the ½ c. Oreo crumbs over top.
Keep refrigerated until ready to serve. Refrigerate leftovers.