I have a great treat for you today! I asked Maria from Rainy Day Farm to do a guest post today. She is a cute farm gal whose blog I have fell in love with. You must check it out. So without further ado…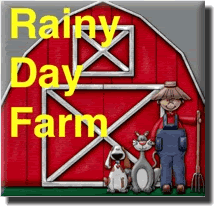 Hi! It's me Rainy Day Farm today. To see Mandy's regular post head on over to Rainy Day Farm and check it out as we are doing a blog swap for the day!
This is one of my favorite recipes that I am sharing with you. It is a healthy (in a I want to eat it kind of way), nutritious, and super easy and fun. I got this recipe from Jessica Seinfeld's cookbook Deceptively Delicious. I got into making purees because my family, myself included, are not big vegetable fans. I thought it was a fun and easy way to get my family to eat veggies without knowing it, I even ended up making my own baby food for my youngest. I figured I was already doing it, so I just made more and he loved it. There are lots of great recipes in this cookbook, and I highly recommend it.
Just a quick background for the purees. Just buy a bunch of veggies, like butternut squash, summer squash, zucchini, broccoli, cauliflower, etc. and either steam them, or bake them in the oven until fork tender. Put the hot veggies in your food processor and puree until smooth. Pour into ice cube trays and freeze. When frozen put in a freezer Ziploc bag and you are ready for all the recipes in the Deceptively Delicious cookbook.
I am including my home- made meatball recipe below, and I recommend making the purees and meatballs ahead of time and pull them out of the freezer when needed.
Meatball Soup
3 oz. bow tie pasta shapes (you can buy whole wheat for extra nutrition)
Cooking spray
1 T. Olive oil
1 small onion, chopped
2 cloves garlic, chopped
1 (28oz.) can whole peeled tomatoes, with juice
(you can use any kind of canned tomato, they all work)
1/4 c. carrot puree
1/4 c. butternut squash puree
1/4 c. broccoli puree
1/4 c. cauliflower puree(you could use squash too)
1 1/2 t. salt
3 c. broth (chicken or beef is fine)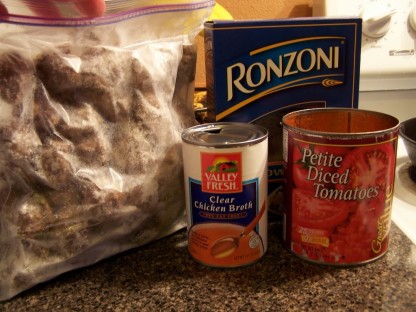 Cook pasta in a large pot of boiling salted water according to package directions until al dente. Drain and set aside. Coat a large pot with cooking spray and set over medium-high heat. When pot is hot, add the oil, onion, and garlic. Cook, stirring often, until onion is softened but not browned. Puree tomatoes and their juice with a food processor. Add tomatoes to the pot along with the purees and broth.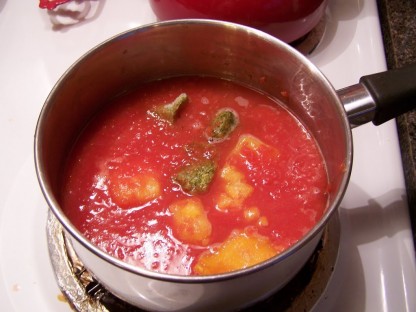 Add salt meatballs, and pasta and reduce heat to low and simmer for 10-15 minutes. Serve with home made bread and you are set!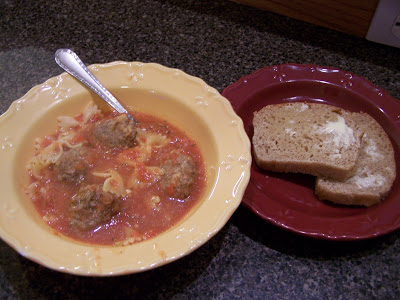 Make-Ahead Meatballs
4 eggs
2 c. dry bread crumbs (I like Italian)
1/4 c. dried onions
1 T. salt
2 T. Worcestershire sauce
1 t. pepper
4 lbs. lean ground beef
In a large mixing bowl beat eggs. Add Hamburger and work eggs in with your hands. Add remaining ingredients and mix well with your hands. Shape into 1 in. balls and place on an ungreased pan. I use a jelly roll pan with sides to stop the grease from dripping in my oven. Bake at 400 for 25 minutes, or until meatballs or cooked completely through. Drain grease and cool. Place in freezer bags and store in freezer for up to 3 months. Enjoy.
I hope you enjoyed my guest post today and come visit me often. We love new friends here on the farm!
-Maria
Printable Version