I am so excited when I have guest bloggers here! I am really happy to have Lark here from
Lark's Country Heart
. I love her recipes! To tell you how much I visit her blog, when I type an "L" in the address bar, Lark's Country Heart is the first thing that pops up. Yeah. I like her a little bit. In fact, I have her
cookbook
that I adore. I won it and it's awesome. Go buy it. That's just me telling you that. Here's Lark…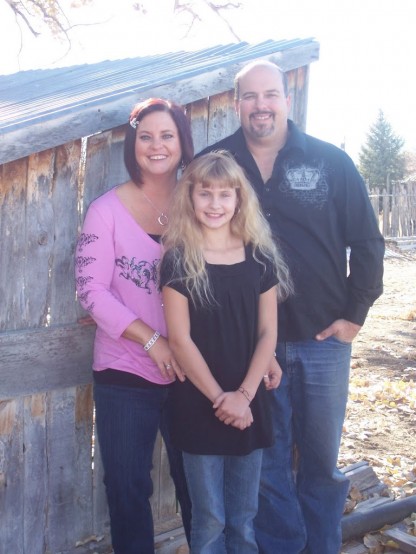 I am so thrilled to be here at Mandy's Recipe Box!
Mandy has asked me to share with you all a little bit about myself.
I have been married for soon to be 14 yrs. We have 1 child, my daughter just turned 12 years old this week. (boy does that make me feel old!) I live in a small country town located 100 Miles North of

Las Vegas, NV

. I am a licensed Manicurist. Along with a Stay at home Mom. I have a few hobbies I like to do… I love to run Marathons. You can always find me in the kitchen baking or cooking. I am a huge reader. And when I have time I like to craft.
I started blogging to help myself "log" my own recipes. And boy did that ever "snowball". I now have (3) blog's I am involved in.
I wanted to share with you all a favorite Main Dish all of my family likes. I don't indulge in it often, but not for the lack of "wanting" it. This dish is so Sinfully Good! I don't fix it very often though, because of the Calories.
*If you are one of those people who can eat what ever you want when ever you want it…well then I hate you. Just kidding! I am just NOT one of the "lucky ones", so I don't get to enjoy this dish as often as I dream about. I have tried to lighten up this recipe a bit. It tasted just as good to me. So YOU go ahead and make it YOUR way.
*If you do want to lighten the calorie count, just substitute the soup, sour cream, and mayo with the Fat Free versions.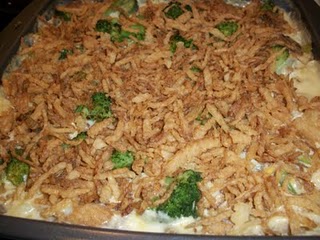 Chicken Divan
4-5 Skinless, boneless cooked Chicken Breast's
4 C. Fresh Broccoli Florette's
1 (10 3/4 oz.) Cream of Chicken Soup
2 C. French's Fried Onion
In a 9×13 pan layer Chicken on the bottom of pan.
Then cover the chicken with the Broccoli .
In a bowl stir together the remaining ingredients; except Fried Onions.
After stirred together well, pour over the Broccoli.
Cover with foil and bake for 25 minutes.
Remove foil, Sprinkle the fried onions on top.
Return to the oven (not covered) for another 15 minutes.