All right, my friends. Do I have a treat for you. I've got the fabulous Jamie from
Jamie Cooks It Up
here today. I am so honored to have her guest blogging. I am very much in love with her blog. As will you once you visit her and see all the amazing recipes she has. So here you go!


Hello! I am Jamie from Jamie Cooks It Up! I'm happy to be guest posting today here at Mandy's Recipe Box. I've brought along a fabulous recipe to share with you all.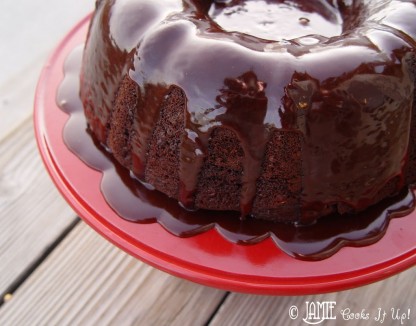 Double Chocolate Cake with Homemade Hot Fudge
Ooooooo….Ahhhhhhhh.
It's down right melt-in-your-mouth heavenly.
I won't tell, if you wont.
You are going to be glad you met this cake!
Here she is in all her glory, recipe and all.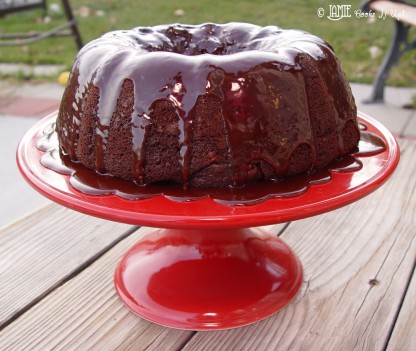 Double Chocolate Cake with
Homemade Hot Fudge
Time: 20 min. hands on + 50 minutes baking
Recipe for the cake from Cindi Schut
1 small package instant chocolate pudding
1/2 C semi sweet chocolate chips
1/2 C milk chocolate chips
***Note: Use regular sized chocolate chips here. The large ones will make a big mess!***
HOMEMADE HOT FUDGE:
2 T unsweetened cocoa powder
1 12 oz can evaporated milk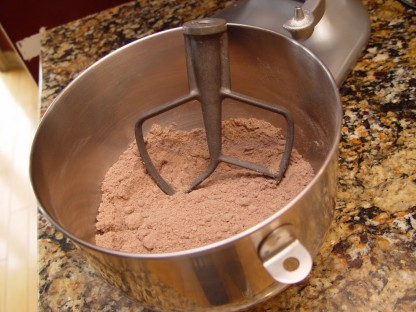 1. In a large mixing bowl, or in your stand mixer add the cake mix, pudding and 1/3 C flour. Stir it all around to combine.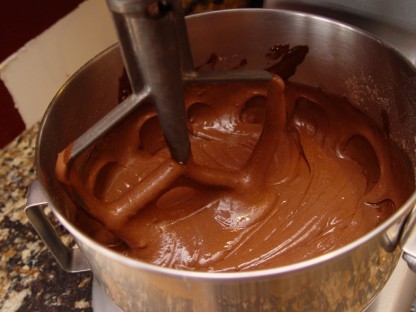 2. Add all other cake ingredients (but the chocolate chips). Mix on low for about 1 minute. Then mix on medium speed until the batter is nice and smooth. This should take about 2 minutes.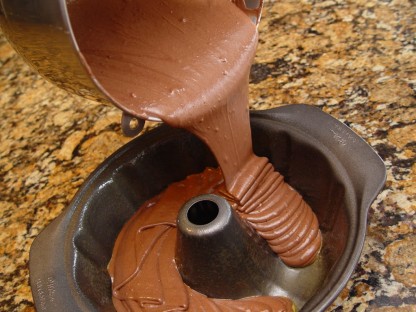 3. Spray a bundt pan generously with cooking spray. Pour the batter into the pan.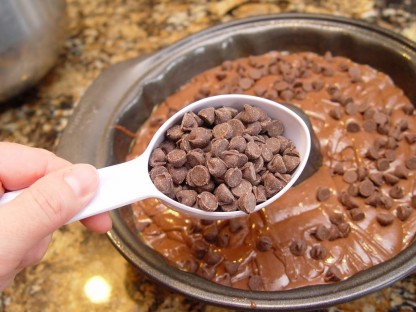 4. Sprinkle the chocolate chips on top of the cake batter.
5. Bake at 350 for 50-55 minutes. (For convection ovens bake at 325 for 40 minutes)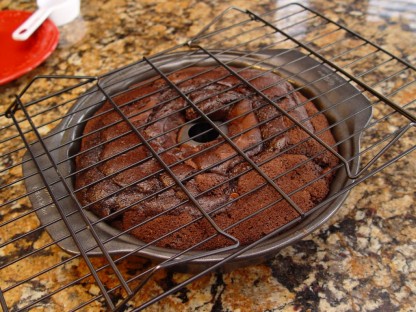 6. Invert your cake onto a cooling rack if you are several hours away from serving. However it is just DOWN RIGHT LUSCIOUS warm from the oven. If you are going to serve it right away, invert it directly onto your serving platter.
HOMEMADE HOT FUDGE
1. In the bottom of a medium sized sauce pan combine the cocoa, cornstarch and sugar.
2. Pour your can of milk over the top of the dry ingredients. Add the vanilla, pinch of salt and only 1 T of the butter.
3. Stir the concoction up over medium heat. After it comes to a boil cook for 3 more minutes while stirring. The sauce should thicken as it boils.
4. Remove it from the heat and add 1 more T of butter. Stir the butter around until incorporated. Let it sit for about 10 minutes before pouring it on your cake.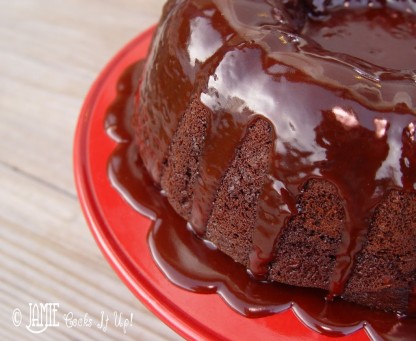 ***NOTE: If you would like to freeze this cake, please do. This cake and the freezer are good pals. Just remember NOT to pour the hot fudge on until you are ready to serve it. When you are ready to eat this lovely confection heat the cake up in the microwave. Heat the Hot Fudge up as well and pour it over the top of the cake. You will be all set.***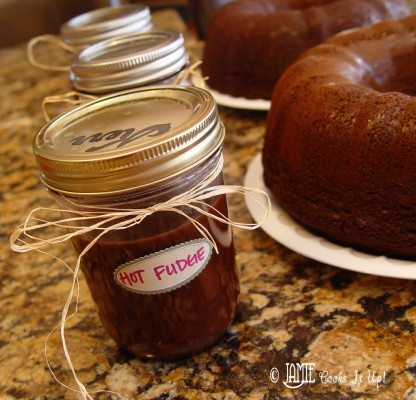 Thanks, Jamie, for this great recipe. Make sure you all go visit her and careful to wipe the drool from your face. It's embarrassing to be caught like that.