I have a fabulous guest blogger here today! She has a delectable treat for us and I insist you make it this weekend. I will let her introduce herself. You may already know her and her tasty recipes, if not, now you will…
Jocelyn from Inside BruCrew Life here with you today. I am so thrilled to be guest posting on Mandy's Recipe Box. She is an amazing cook/baker/blogger, and I always look forward to seeing what she has cooked up. Thank you so much Mandy for asking me to be a part of your blog today, and I am so sorry it took me so long to get this too you! This summer has been crazy! Can anyone else believe that is almost over???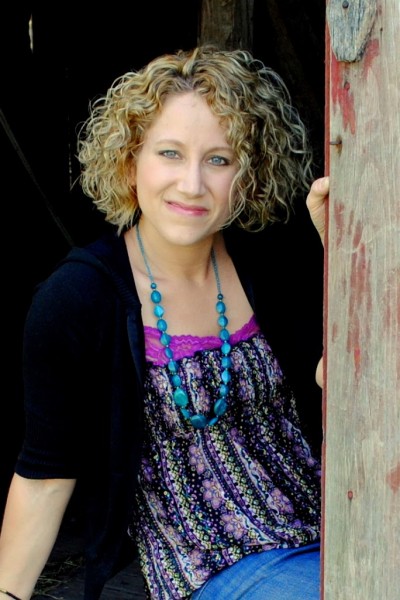 I am a SAHM mom to 3 kids, and I have been married to my best friend for 13 years. I enjoy spending lots of bonding time with my kitchen aide. I have quite the sweet tooth and my blog has become an outlet for me to share those crazy baking concoctions with others. My family is used to me making something yummy at least 2-3x's a week. In fact, I tease my husband that we like to eat brownies for dinner when he is working. (ok, not really) I also find time each week for card making, scrapbooking, and making flowers for my etsy shop, The Trendy Owl.

One of my family's favorite things to make all summer long is shortcake. We love it with just about any fruit that comes in season. This week we went with the traditional strawberry shortcake, but with a BruCrew twist:-) I hope you will enjoy our crazy combo! Please stop in my blog sometime, I would love to meet some new fellow foodies!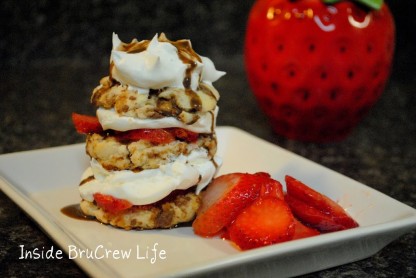 Toffee Crunch Strawberry Shortcake
4 c. sliced fresh strawberries
1/4 c. sugar
2 tbsp. lime juice
2 1/3 c. bisquick baking mix
2/3 c. milk
3 tbsp. sugar
3 tbsp. melted butter
1 1/2 c. heath baking bits
cool whip
choc syrup
Mix the strawberries with the sugar and lime juice and set aside. Stir together the baking mix, milk, sugar, and butter until it forms a soft dough. Stir in the baking bits. Drop by spoonfuls onto an ungreased baking sheet. Bake 10-12 minutes or until golden brown. Split the shortcakes in half and layer with cool whip and extra strawberries. Drizzle with chocolate syrup.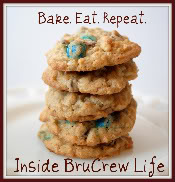 Thank you for letting me share one our favorite treats with you today. I would love for you to visit me over at my blog…

just don't judge me when you see how much sugar I consume weekly:-)

Hugs, Jocelyn