I'm excited to have our guest blogger here today! I love their site and their recipes. I will just move aside and let them do their thing.
Hi, I'm Becca from Crumbs and Chaos, a blog I write with my 3 sisters. We have 11 children between us, hence the name Crumbs and Chaos…we deal with our fair share on a daily basis. We love sharing our favorite recipes, tips on controlling the chaos and seeing awesome things from our readers every Saturday at our Seasonal Inspiration link party. I am thrilled to be here today at Mandy's Recipe Box sharing this sweet treat with you.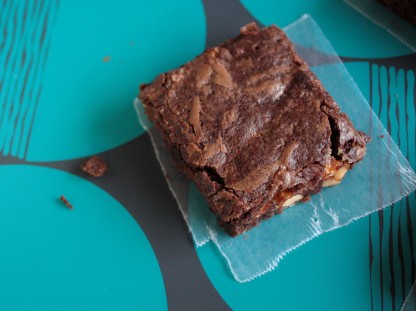 It's no secret that we have a sweet tooth, that's evident from a quick glance at our Recipe Index. Most desserts are well loved in these parts, chocolate especially. There's nothing quite like a warm brownie straight from the oven.
Homemade brownies aren't difficult to make and they are such a crowd pleaser. I'll bet you have almost everything you need to make them right in your pantry. This version is fudgey and delicious, studded with peanuts and little pockets of caramel. A glass of cold milk is something I'd definitely recommend.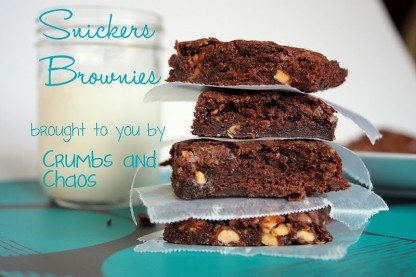 1/2 teaspoon VANILLA EXTRACT
1/2 teaspoon BAKING POWDER
1/2 cup UNSWEETENED COCOA POWDER
8 FUN-SIZE SNICKERS BARS, chilled in fridge
Preheat oven to 350°. Grease a 9×13 pan (TIP: I usually line the pan with foil, letting some hang over the ends. Then I grease the foil, when the brownies are cool I lift them from the pan using the ends of the foil and cut them neatly into squares. They cut really nicely this way and I'm not scratching up my pans by cutting into them.)
In a large bowl, beat together butter and sugar until blended. Beat in eggs, one at a time, and then add water and vanilla.
Sprinkle salt and baking powder over the mixture, then beat it in. Do the same with the cocoa powder. Stir in the flour until just blended.
Coarsely chop the Snickers with a knife or by putting them in a blender or food processor. Fold them into the batter. Spread the batter into the prepared pan. Bake for 30 minutes, until the center is just set. Cool completely before cutting into squares.
Don't be a stranger! Stop by and say hi: