I have another guest blogger here and I am thrilled that it's Miss Brandie from The Country Cook. Can I get a Yee Haw?! That's me being excited. All right. Enough of my nerdiness. Here she is…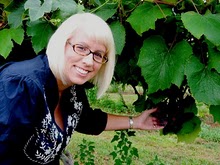 Hello everyone! First let me start off by saying a big THANK YOU to Mandy for letting me chat and have some fun on her blog today. It is such a special treat to be here and to have a chance to share a recipe I hope everyone will really enjoy. I'm a big fan of Mandy and all of her delicious recipes. She is a fantastic cook!
Let me introduce myself. My name is Brandie, the cook over at The Country Cook. I live in beautiful Southwest Virginia near the Appalachian mountains. I'm a jack-of-all-trades, like most women. I'm a momma and a wife. I also work part-time outside the home. I love to make

comfort food

and I like to eat it. I do my best to get supper on the table every night – which can be a challenge some nights. My food may not be considered gourmet or fancy but it feeds my family and it gathers us around the table each day. I cook a lot of the same foods my own Mom made as well as ones I have learned to make myself along the way.
Today, I want to share an old-timey Southern recipe. It is called Hot Milk Sponge Cake. And you guessed it, the secret ingredient is hot milk!
I make this sponge cake a lot just after we've gone strawberry picking and I have a whole mess of strawberries to do something with. I can't wait for strawberry season here. We should be heading into peak season in our area in about a week or so.
This cake is so moist and sweet all by itself but something about it just lends itself to being eaten with strawberries (or any kind of berry) and fresh whipped cream.
Ingredients:
1 cup granulated white sugar
1 teaspoon v
anilla extract
2 pints f
resh strawberries
¼ cup granulated white s
ugar
1 Tbsp l
emon juice (optional)
Directions:
Preheat oven to 350 degrees F. Spray nonstick cooking spray inside a 9X9 baking dish.
In a medium bowl, combine flour and baking powder.
In a separate bowl (or stand mixer), beat eggs on high speed for about 4 minutes, until thick.
If you're using a stand mixer, I would suggest using your whisk attachment for this step. Gradually add sugar and beat at medium speed for 4-5 minutes until fluffy.
Now add your flour mixture, and mix at low to medium speed until just combined (don't overmix or cake will turn out rubbery).
In a small saucepan, on medium heat, add milk and butter and stir until butter is melted. Do not boil – you just want this mixture to be very warm (scalded is the cooking term). Take off heat.
Add milk and butter mixture to batter, also add vanilla extract and mix until combined.
Pour into baking dish and bake for about 20-25 minutes, or until a toothpick comes out clean.
Serve warm with macerated strawberries spooned on top and fresh

whipped cream

.
Cook's Note:
For a little variety in the cake, try adding different flavored extracts, like lemon or almond. Need more? Just double the recipe and bake in a 9×13 baking dish for about 25 minutes (until an inserted toothpick or knife comes out clean)
Thank you again to Mandy for letting me share this recipe on her blog today.
Also, I'm hanging out on facebook as well, just click HERE.
Brandie, The Country Cook