I have another awesome blogger guest posting today! I love these guest posts. It's so fun to bring someone new to my blog to share their recipes and cooking styles. We all have our own and this lady has excellent taste (no pun intended, well maybe a little). It's Marsha,
The Better Baker
. She is such a fabulous lady that I've become friends with through blogging. And she has a great apron collection (my kinda gal). Thanks, Marsha, for posting today!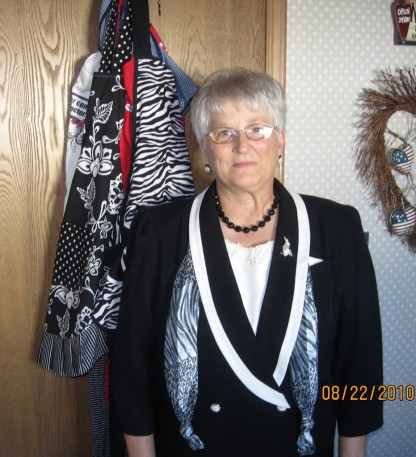 First of all, I want to thank Mandy for the honor & privilege of sharing at her great blog. I've followed Mandy for a long time – she's a gal after my heart with her simple and family-oriented recipes. I just squealed with delight when she asked me to do a guest post. YOWZA! She's such a cutie, and her kids are too.
I've been married to my high school sweetie for over 43 years. I'm mom to 3 – Nana to 8 beautiful grandkids. My hubby is retired military – diabetic, and 100% disabled because of exposure to Agent Orange, so I lean toward using healthy ingredients. I love simple, easy recipes using everyday ingredients. I want to be ready to cook & bake at all times!
Whenever folks have commented that I'm a good cook, my favorite response has always been "But I'm a Better Baker". How I love living up to my name!
I had my own cookbook (300 easy recipes using every day ingredients) published in August 2010. Have sold nearly 500 copies already
(FYI – only about 75 in stores, the rest on my own…soo thankful that
whirlwind has slowed down=).
With strawberry season coming on, I thought I would share this delightful summer dessert.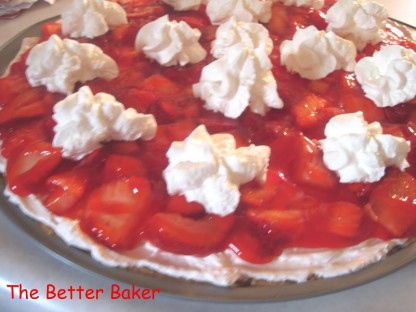 I received this recipe from a dear friend who always shares this yummy dessert when she gets an email recipe exchange request.
It's easy enough to put together and will be gone quickly, so make sure you have the ingredients to make another.
It was good enough to add to my cookbook too.
Changes I made: I cut the butter by 1 Tb. Not that it makes much difference, except it isn't as sticky when pressing into the pan. Instead of the block of cream cheese, I found an 8 oz. tub of

strawberry cream cheese

spread – 1/3 reduced fat – hiding out in my fridge. Because it was already sweetened, I didn't add the powdered sugar. (You can always substitute splenda if you need to watch the sugar intake). I also used the sugar free glaze.
It is so delicious. I ate my first piece for breakfast – right after I made it. And another piece for lunch.
You get the idea I'm sure.
STRAWBERRY PIZZA
1-1/2 c. all purpose flour
1 c. cold butter, cut into chunks
1 – 8 oz. cream cheese, softened
1 – 8 oz. tub Cool Whip, thawed
4 c. cleaned, sliced fresh strawberries
1 – 16 oz. pkg. strawberry glaze
Preheat oven to 350. In lg. bowl, combine flour,butter, brown sugar and nuts. Spread on 14″ pizza pan or 10″ X 15″ X 1″ cookie sheet.
Bake 12 – 15 minutes until browned. Cool.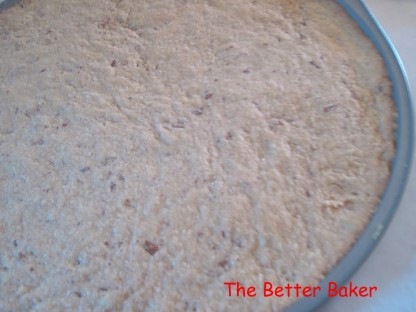 In medium bowl, combine cream cheese and powdered sugar; beat until smooth. Fold in whipped topping and spread over cooled crust. Refrigerate for 15 minutes to set up. In large bowl, combine fresh strawberries and glaze until coated. Spread out over cream cheese filling, then top with dollops of Cool Whip to serve. Keep leftovers refrigerated.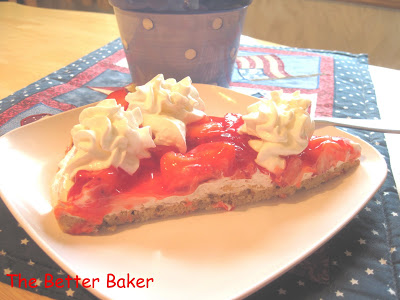 I'd love for you to stop by and visit me sometime.