I'm sure by now that many of you have heard of green smoothies. Made with spinach or other greens and fruit that are so healthy (so much so, in fact, that I'm not sure why it's appearing on my blog!) and full of fiber and iron and protein if you use peanut butter.
Here's a site to read up on the
Green Monster Movement
. There's also lots more recipes for variations on the green smoothie.
To me it looks like a green monster got blended up. So I just can't look at it while I drink it. It's in my head, for sure, because these are delicious. I use spinach which takes on the flavor of whatever else you add to it.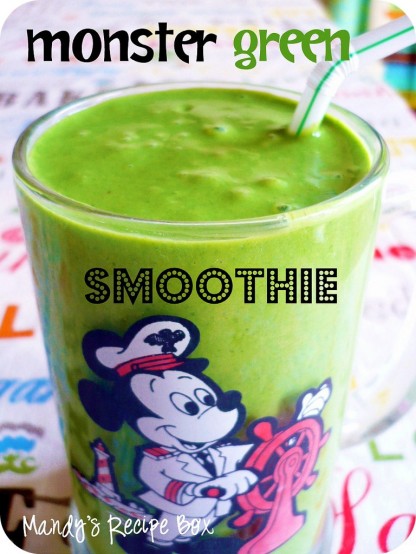 1 sliced banana, frozen (slice then freeze in a plastic bag)
1 Tbsp. peanut butter (you could also use almond butter)
1/2 c. Vanilla 0% Chobani Greek Yogurt
1 c. Vanilla Almond Milk
Combine all in a blender and blend until smooth.
Nutritional stats: 350 calories, 10g fiber, 21g protein
P.S. I know you're eyeing my awesome Mickey glass from the 80's. It's ok. That's how I roll…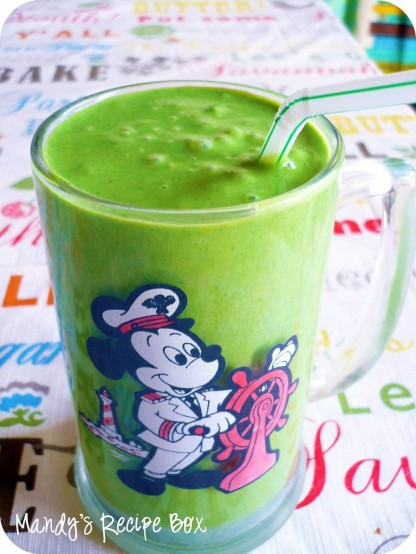 You could also change it up to suit your tastes. Like I'm gonna try skipping the banana and using some strawberries and 1/2 c. blueberries. Or using cocoa powder and peanut butter along with the banana. Whatever you like, give it a go!