Greek Salad is a refreshing salad with chicken and a wonderful dressing all tossed with fresh vegetables. It makes a wonderful light meal.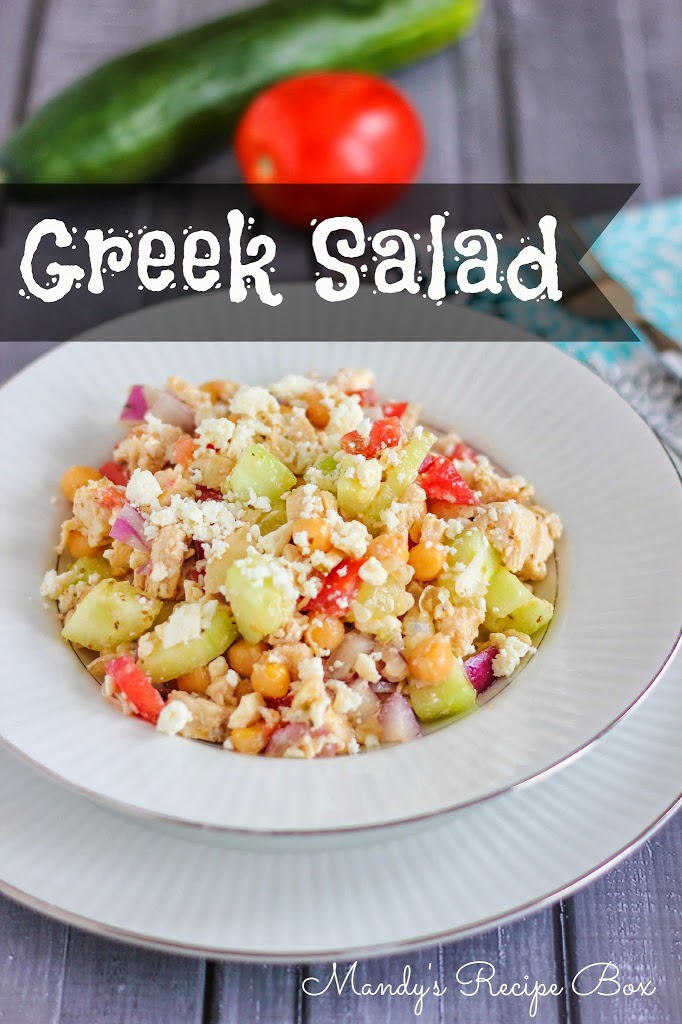 Are you all on the eating healthy train? I am partially. It's good to eat healthy, but it's good to have treats. It just is. Moderation is the key. We've all heard that. Salads are good as long as you eat them right. I can't handle a salad with just lemon juice on it (it's a thing) or just a splash of vinegar. You gotta have a good dressing. With yummy ingredients. This Greek Salad has all those things.
Greek Salad
Ingredients
2 C. cooked chicken, shredded or cubed and cooled
1 cucumber, peeled and chopped
1 red bell pepper, chopped
2 Roma tomatoes, chopped
½ red onion, chopped
½ (14-16 oz) can garbanzo beans, drained
¾ C. crumbled feta
2 Tbsp. red wine vinegar
1 tsp. dried oregano
salt and pepper to taste
¼ C. olive oil
Directions
Stir together the chicken, cucumber, bell pepper, tomato, onion, beans and feta in a large bowl.
In a separate bowl, whisk together the vinegar and oregano with a few pinches of salt and pepper.
Slowly drizzle in the olive oil, whisking to combine.
Pour the dressing over the salad and toss.
Refrigerate at least 30 minutes.
Serve.