My grandpa made the best chile. It's not chili. It's chile. Because it's Mexican food, not American. Traditionally, Chile doesn't have beans in it, just meat. But anyone in any culture tends to add lib when it comes to cooking and does what they want. We make
tortillas
and ham hocks and beans and eat them with this Chile. It can be frozen and that's what I love about this. A funny thing about my grandpa-he said that he'd live to 90 because that's a good age. He passed away just a few days after his 90th birthday. I always think of him when I make and eat his chile. I hope you enjoy it.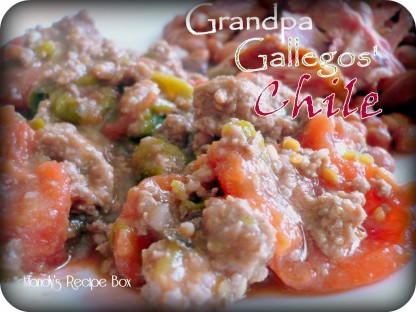 Ingredients
2 lbs ground beef
2 Tbsp. flour
2 tsp. minced garlic
garlic salt
Anaheim Chiles, roasted and chopped* (you can also use canned green Chiles, but the real stuff tastes so much better!)
1/4 c. water
2 cans stewed tomatoes
Directions
Cook the beef until almost done.
Add flour, garlic, garlic salt, and chiles; stir.
Add tomatoes and water; heat through.
Serve with homemade tortillas and ham hocks and beans*.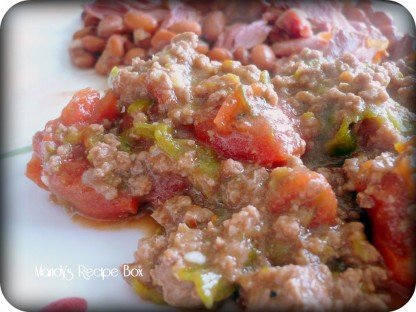 To roast Chiles:
Place them on a grill or the rack in your oven. Roast until the skins turn black. Immediately place into a large Zip-Loc bag and let steam. After it cools (wear plastic gloves), peel the skin off and remove seeds. You can then freeze them or use them in a recipe. I love putting them on a tortilla, sprinkle a little garlic salt on them and fold them up and eat them.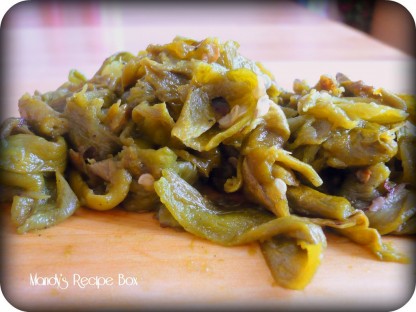 Ham Hocks and Beans:
Soak 1 lb pinto beans according to package. I do the quick soak method. Rinse and drain them and place in a slow cooker or Pressure cooker. Add a ham hock or two and enough water to cover the beans. Do not salt beans until they are done or it will toughen the skins. Cook on high in the slow cooker 6-8 hours or according to pressure cooker directions. Serve with tortillas and this Chile.