"Want a S'more?" "Some more of what?" "Smalls, you're killing me!" Good ol' Sandlot. I don't know why I only have one picture of this, but oh well. What can you do? I guess I'll just have to make more and take more pictures to add onto this. Darn. Super addicting. Beware. I like it best the day it is made. Others may like it after it sits and is softer. Try it and see how you like it.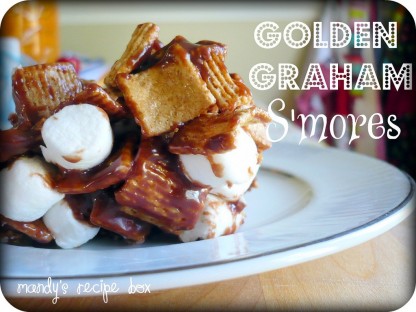 Golden Graham S'mores
8 c. Golden Graham cereal (13 oz box)
6 c. mini marshmallows (10 oz. bag)
1 tsp. vanilla extract
1 1/2 c. chocolate chips
5 Tbsp. butter or margarine
1/4 c. light corn syrup
Melt 1 c. marshmallows, chocolate chips, butter, and corn syrup in a saucepan. Stir occasionally. Remove from heat and add vanilla. Butter a 9×13 inch pan. Pour cereal into a large bowl. Pour marshmallow mixture over cereal and stir until evenly coated. Stir in remaining marshmallows. Press into the buttered pan. Cool at room temperature. Makes about 24 bars.