I saw this on an episode of Down Home With the Neeley's and knew I had to make it. It is called "Get Yo' Man Chicken" because when you make this for a man, he will be yours. It is really good. I love it over the rice. It just tastes awesome. You can use white or brown rice or a combo of both, like I do. I can't totally handle the texture of straight brown rice yet, but I'm working on it. Thankfully my husband and kids like the combo, too. It makes for easier cooking.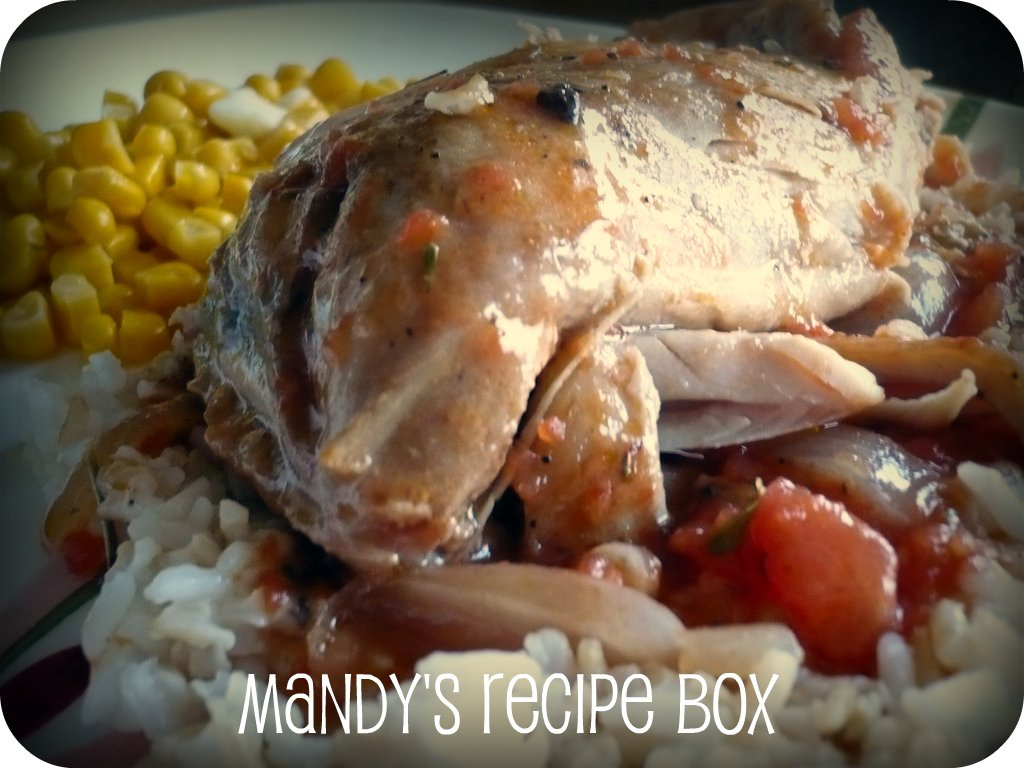 Get Yo' Man Chicken
2 tablespoons olive oil
6 chicken thighs, skinless
1 teaspoons salt
1/2 teaspoons pepper
1 medium onion, sliced
1 cup chicken stock
1/2 cup white wine (I used chicken broth)
1 (14.5-ounce) can crushed tomatoes in thick puree
1 teaspoon dried thyme
1/2 tablespoon dried rosemary
1 tablespoon lemon-pepper
Hot buttered rice (white or brown)
2 tablespoons chopped fresh parsley leaves
Heat the oil in a 12-inch skillet over medium-high heat. Pat chicken dry with a paper towel and season with salt and pepper. Brown the chicken, meat-side down first, and turning once, about 4 minutes on each side. Transfer to a plate to reserve. Pour off all but 1 tablespoon of oil from the pan. Add onion to the pan and saute until tender, roughly 3 minutes. Add the stock and wine and stir, scrapping any brown bits off the bottom of the pan. Turn heat to high and reduce by half, about 3 minutes. Pour in the crushed tomatoes and add the dried herbs and lemon pepper. Add the chicken thighs back into the pan.Cover and cook on medium-low heat for 40 minutes.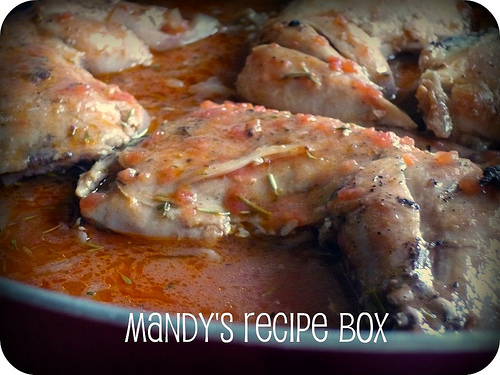 Remove chicken from liquid and serve on hot buttered rice. Ladle the sauce on top and garnish with fresh chopped parsley.