The German Pancake (aka Fluffy Pancake, Big Pancake, etc.) is a favorite for my 5 year old son and myself. I love the taste of saltyness of the pancake combined with sweetness from the homemade syrup. I must use homemade syrup on this bad boy. No store bought here. It is just not permitted. Preston, my son, loves the enormousness that is this pancake. He loves checking in on it while it is cooking to see how it is growing. And who can blame him? Just look…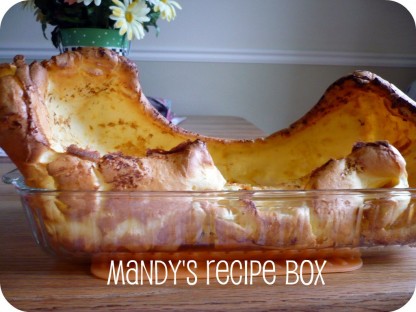 German Pancake
6 eggs
3/4 c. flour
3/4 c. milk
1/2 tsp. salt
6 Tbsp. butter
Place the butter in a 9×13 dish and put in the oven. Preheat to 425 degrees and let the butter melt. Meanwhile, put all the other ingredients into a bowl and mix with a mixer until combined. It will have some lumps. When the butter is melted, remove from oven and pour in the batter. It will sizzle, don't be scared. Bake at 425 for 20 minutes. Enjoy your kids' faces when they see the end result!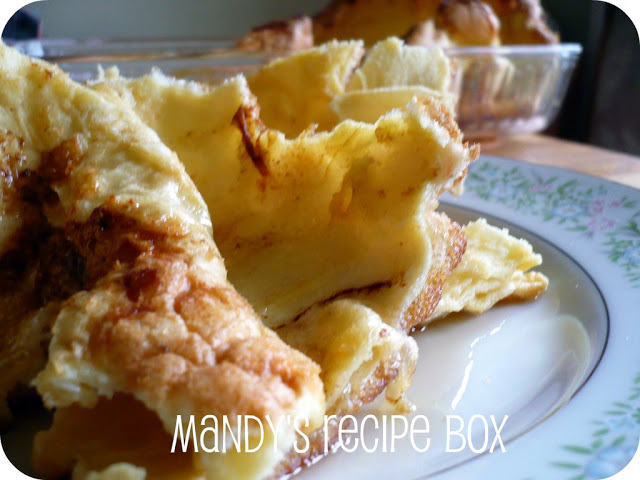 Homemade Maple Syrup
1 c. water
2 c. sugar
1/2 tsp. maple extract
Bring water and sugar to a boil. Stir until sugar is desolved. Add extract and stir. The end.