These Fudge Revel Bars are in my top 10 favorite desserts. Which is why I shouldn't make them very often. Especially since it makes a huge cookie sheet sized pan. I first tried these when my aunt made them. I have also seen them in other cookbooks but this version is just perfection. What's a girl to do? Devour Share them of course! I really have a hard time getting through the mixing process because I just want to sit down with the dough and eat it. Straight from the bowl. Well here, look and see for yourself…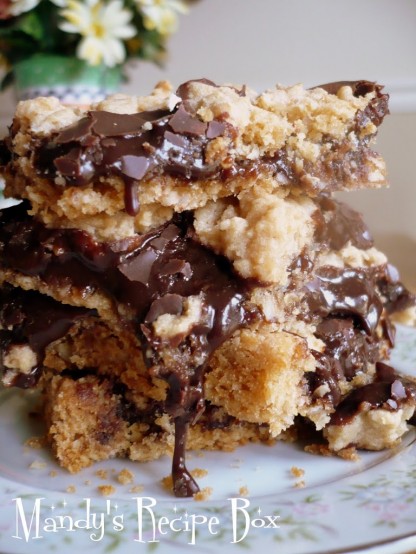 Oh. And they were mentioned on Pioneer Woman's
Tasty Kitchen
. No biggie.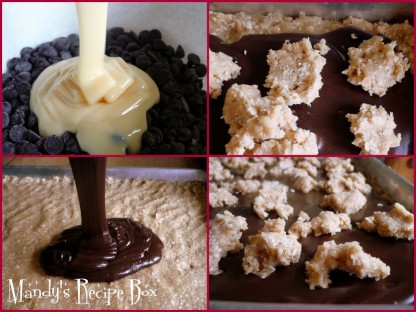 See? Don't you just wanna stop right here and eat? But after a small sampling, press forward because this is what you get…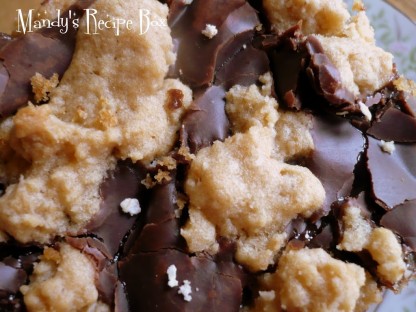 Fudge Revel Bars
Ingredients
Base
1 c. butter
2 eggs
2 c. brown sugar
1 tsp. salt
1 tsp. baking soda
2½ c. flour
2 tsp. vanilla
3 c. quick oats
Fudgy Goodness
1 can (14 oz.) Sweetened Condensed Milk
1 pkg milk chocolate chips
1 Tbsp. butter
½ tsp salt
Directions
Base
Cream together the butter, brown sugar, and eggs. Add the vanilla. Add the salt, baking soda, and flour. Mix. Add oats and mix well.
Press ⅔ of the dough into a greased cookie sheet with edges (aka jelly roll pan. It's about 10x15 or so).
Fudgy Goodness
Put all into a microwave safe bowl and microwave for 1 minute and stir. Keep cooking at 30 second increments and stirring until melted.
Pour over the dough and spread out.
Sprinkle the rest of the dough over the fudge.
Bake at 350 for 20 min.
Be sure to save this to your favorite Pinterest boards!

Follow my Brownies and Bars Pinterest board for more!