Fried Rice is the perfect side to any Asian dish. It's so easy to make and tastes just like it came from a restaurant.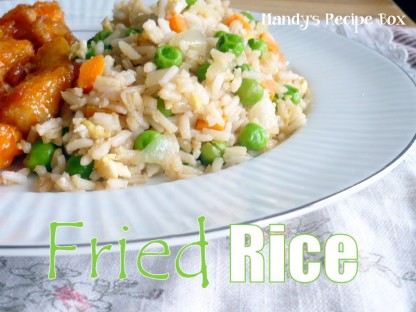 This rice goes perfectly with it.
Like the chicken, this rice tastes just like it came from a Chinese restaurant. The secret is the sesame oil.
I love that I can make this at home. It's so simple, but this is the first homemade fried rice I've tasted that tastes like it came from a restaurant.
You can add ham to it if you want, but I left it out this time.
Fried Rice
Ingredients
3 cups cooked white rice (this is a great recipe to use up leftover rice)
3 Tbsp. Sesame Oil
1 cup frozen peas and carrots (thawed)
1 small onion, chopped
2 tsp. minced garlic
2 eggs, slightly beaten
¼ cup soy sauce
Directions
On medium high heat, heat the oil in a large skillet or wok.
Add the peas/carrots mix, onion and garlic. Stir fry until tender. Lower the heat to medium low and push the mixture off to one side, then pour the eggs on the other side of skillet and stir fry until scrambled.
Add the rice and soy sauce and stir all together until thoroughly heated.
Try using green onions in place of the regular onion.