Who doesn't love some fried chicken? Unless you're a vegetarian or vegan, I suppose. The gravy sends this out of this world. Using the drippings, the flavor doesn't get any better. Make this Fried Chicken with Milk Gravy immediately.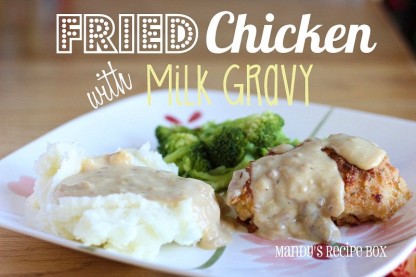 Fried Chicken with Milk Gravy
Ingredients
⅔ c. plus ¼ c. all-purpose flour, divided
1 tsp. dried thyme
½ tsp. onion powder
½ tsp. seasoning salt
½ tsp. pepper, divided
4-8 chicken pieces, depending on which pieces (I used boneless skinless chicken breasts)
⅔ c. buttermilk
2 to 4 T. oil
drippings from the chicken
1 c. poultry gravy mix
4 c. milk
Directions
If you have time, soak the chicken in the buttermilk for a few hours in the fridge. If you don't have time, just soak it while you mix the coating.
Preheat the oven to 350 degrees.
Combine ⅔ cup flour, thyme, onion powder, salt and ¼ teaspoon pepper in a large plastic zipping bag; add chicken to bag, one or two pieces at a time and shake to coat well.
Heat oil in a large skillet over medium heat.
Add chicken and cook for 15 minutes, turning to cook evenly until golden.
Remove chicken to a baking dish. I line mine with foil to make clean-up easier.
Reserve drippings.
Place chicken in the oven and bake 30 minutes or until done.
Stir gravy mix, milk and remaining pepper into skillet with the drippings, scraping up any browned bits; cook and stir over medium heat until thickened.
Serve hot gravy over chicken and mashed potatoes.