Evil because it's got 1 cup of brown sugar in it
plus
bacon
plus
you can't stop eating it. It's evil. Evil, evil, evil. Bad dinner. Not really, though. It's delicious.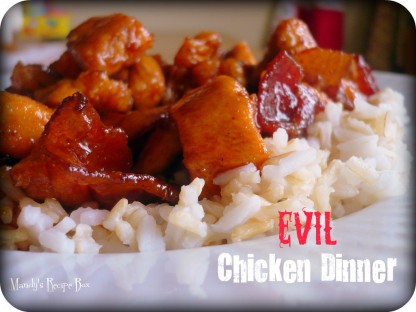 Ingredients
1 lb. bacon, cut into pieces
1 lb. boneless skinless chicken breasts, chopped
3 Tbsp. chili powder
1 c. brown sugar
up to 1/2 c. water as needed
cooked rice
Directions
Cook the bacon in a large skillet until nearly done; don't drain.
Stir in chicken & chili powder; Cook until cooked through.
Add sugar & cook until dissolved and sauce begins to thicken, about 4-5 minutes. Be careful once the sugar is added not to let it turn to toffee.
Add water to thin the sauce, but keep in mind the sauce is more of a coating.
Serve over hot rice.