This Eggnog Bread is incredibly moist and incredibly addicting. Beware if you make this-you're gonna have to hide it from yourself or make mini loaves and just keep one out and freeze the rest. Very true story.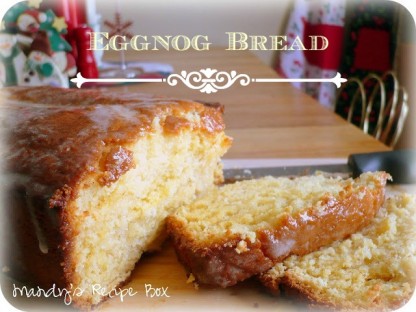 I saw this on my pal Tina's blog Mommy's Kitchen and knew I had to try it. This is one of those recipes that grabs my attention. A-because I love bread; B-because my whole family loves Egg Nog; and C- I don't like Egg Nog, but love stuff made with it such as the Egg Nog shake at the local Drive-In.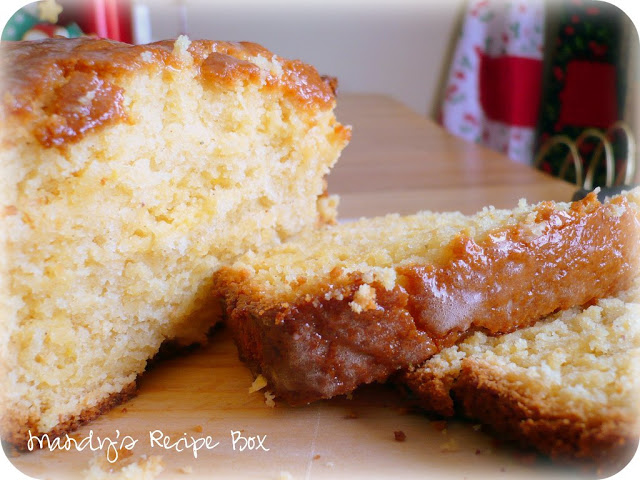 Egg Nog Bread
Ingredients
Eggnog Bread
2 eggs
1¼ cups sugar
1¾ cups eggnog
½ cup butter, melted
¼ tsp. nutmeg
1 tsp. rum extract
1 tsp. vanilla extract
2¼ cups all purpose flour
2 tsp. baking powder
¼ tsp. salt
1 - 3.4 oz package instant french vanilla or vanilla pudding
Egg Nog Glaze
1 c. powdered sugar
enough Egg Nog to make glaze drizzle over the bread, start with 2 Tbsp.
Directions
Preheat oven to 350 degrees.
Grease bottom of bread pan or mini loaf pans.
Beat eggs, add sugar, eggnog, butter, rum and vanilla extract.
Mix together the flour, baking powder, salt and nutmeg.
Add the flour mixture to the batter and mix well.
Add the instant pudding and blend.
Pour into greased pan or mini loaf pans.
Bake for about 60 minutes for 9" loaf pan or 20-25 minutes for mini loaf pans. Bread will be golden brown and a toothpick inserted comes out clean.
Cool in pans 10 minutes. Remove and cool completely on a baking rack.
When cool drizzle Eggnog Glaze on top.