Breakfast is a meal that can get you stuck in a rut. Pancakes, waffles, french toast, cereal, repeat. This can get boring. Even though these pancakes and these pancakes are some that I could eat over and over again. I have a recipe for you that is quick, versatile to your taste, and sure to please those you serve it to: Egg and Cheese Bake. Take a look…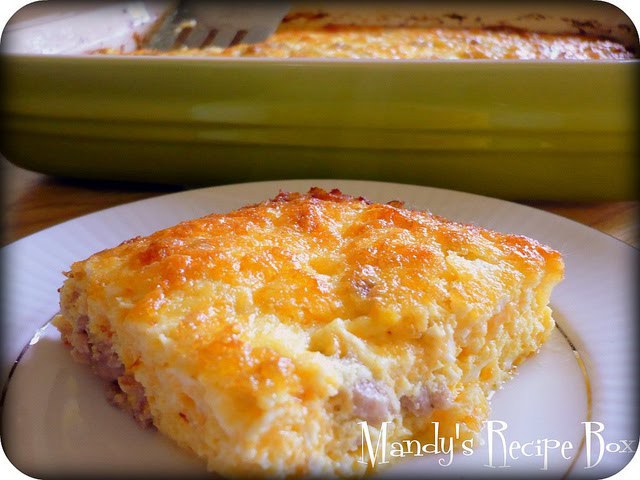 Ingredients
1 lb. cottage cheese
1 lb. grated cheese of your choice
10-12 eggs
1/2 c. flour
1 tsp. baking soda
1/4 tsp. salt
1/2 c. butter
Optional ingredients:
sausage, bacon, ham, veggies (onions, peppers, broccoli, etc.)
Directions
Place the butter in a 9×13 baking dish and put into the oven. Preheat to 350 degrees and let the butter melt.
Meanwhile, mix the cottage cheese, cheese, eggs, and any optional ingredients together in a bowl.
Add the flour, soda, and salt. Pour the mixture into the melted butter.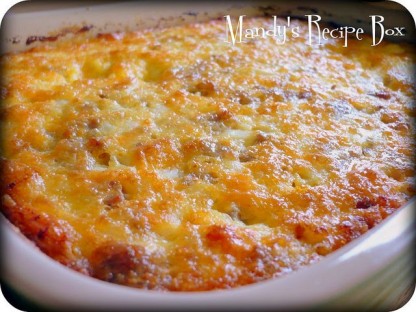 I love baked cheese! Look at it all…this is so much tastier than an omelet. I also like to serve it with green or red salsa on top. My hubby likes Tabasco on his. The corner pieces are my favorite with the extra crispy edges of cheese.