I made this Easy Cheesey Chicken Casserole and my children really liked it. My daughter said it tasted like these Chicken Rolls except with noodles instead of crescent rolls. I got the recipe from Gooseberry Patch. Enough said. Plus it has the words Easy & Cheesy in the title. Can't really go wrong there.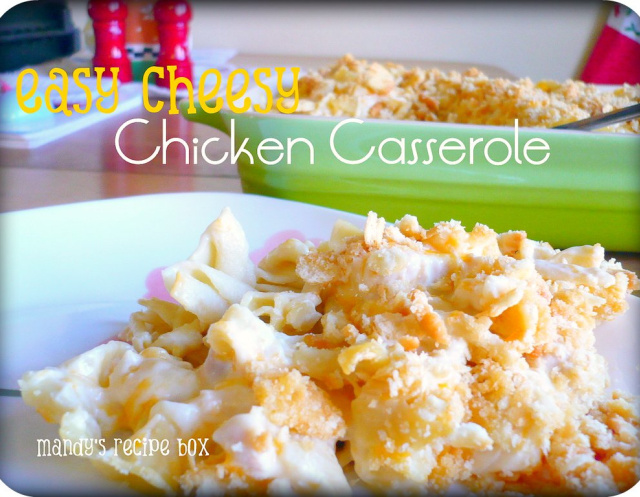 Easy Cheesy Chicken Casserole
Ingredients
3-4 chicken breasts, chopped and cooked or 1 (14 oz.) can chicken
16 oz. egg noodles, cooked
24 oz. sour cream
2 cans cream of chicken soup
8 oz. shredded cheddar cheese
8 oz. shredded mozzarella cheese
1 sleeve Ritz crackers, crushed
¼ c. margarine, melted
2 Tbsp. Poppy seeds (optional)
Directions
Combine chicken, sour cream, soup & cheeses in a large bowl; stir to combine.
Add the noodles and gently stir till coated.
Pour into a greased 9x13 baking dish.
Mix crackers and margarine; sprinkle over the top.
Sprinkle with Poppy seeds.
Bake at 350 degrees for 25-30 minutes or till crackers are crispy and golden brown and cheese is melted.