Drumsticks with Heat are just that. Spicy chicken that will please any spicy food lovers in your life. You can adjust the amount of spice by changing the pepper and sauce amounts.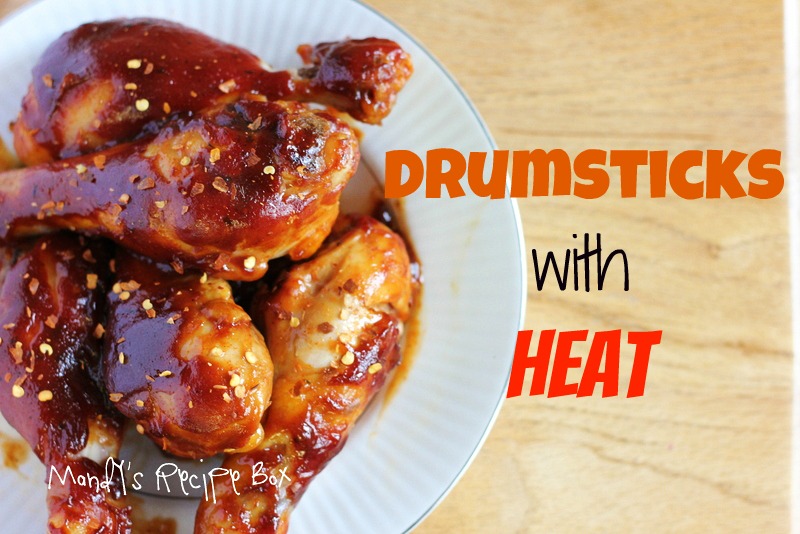 I had a request from Tammi over at
Momma's Meals
 asking if I would want to be part of her Featured Fridays where she features other bloggers and shares a recipe that she made from their blog. I agreed and today I am sharing her recipe for Drumsticks with Heat.
So
go check out
what she made from my blog today. It's super yummy, I'll tell you that.
Drumsticks with Heat
Ingredients
2 lbs chicken drumsticks
1 (18 oz.) bottle of your favorite BBQ Sauce
1 to 2 Tbsp. cayenne pepper
2 Tbsp. Frank's Hot Sauce
Directions
In a large zip locked bag dump in the sauce ingredients.
Add the chicken. Seal, making sure you get all the air out of the bag. Massage it all together and refrigerate for as long as you like. A few hours or all day is perfect.
Preheat oven to 350F. Grease a baking sheet with cooking spray and lay each drumstick on the sheet. Cook for 20 or 30 minutes, rotate the drumsticks and coat again with the marinade. Cook for another 20 or 30 minutes.
Notes
I used just 1 Tbsp Cayenne and that was plenty hot according to my spicy food loving husband. I cooked my chicken in the oven for 30 minutes each side. You can also grill this.