Oh how I love peanut butter cookies. I love them. These are doubly lovable with the peanut butter smooshed inside. Add a glass of milk and just try and stop me from eating them all myself.
Just try.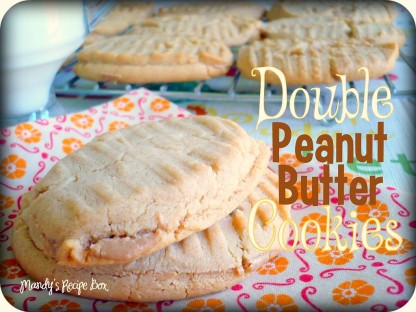 1 1/2 c. flour
1/2 c. sugar
1/2 tsp. baking soda
1/4 tsp. salt (I use coarse salt)
1/2 c. shortening
3/4 c. creamy peanut butter, divided
1/4 c. light corn syrup
1 Tbsp. milk
Combine the flour, sugar, soda, and salt. Blend in shortening and 1/2 c. peanut butter until mixture resembles coarse meal. Blend in syrup and milk. Form into a roll 2 inches thick; chill at least 30 minutes to an hour. Cut into 1/8 inch to 1/4 inch thick slices. Arrange half the slices on an ungreased baking sheet; spread each with 1/2 tsp. peanut butter. Top with remaining slices; seal edges with a fork. Bake at 350 degrees for 12 minutes or until golden.