I found these in a Taste of Home magazine. Chewy and brownie-like, these cookies never last long in my house!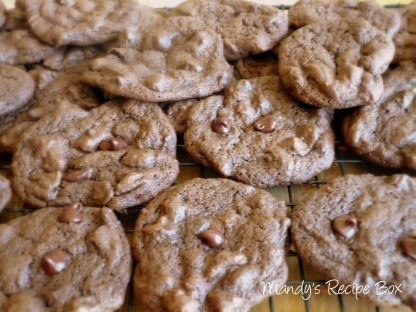 Double Chocolate Cookies
6 Tbsp. Canola Oil
3/4 c. brown sugar
1/2 c. sugar
2 eggs
1 tsp. vanilla
1 1/4 c. flour
1/4 tsp. baking powder
2 c. semi sweet chocolate chips (or 1 c. white chocolate and 1 c. semi sweet)
Beat oil, butter, and sugars. Add eggs. Beat in vanilla. Add flour, cocoa, and baking powder. Stir in chocolate chips. Drop onto ungreased cookie sheets. Bake at 350 for 12-15 minutes. Cool 1 minute and transfer to a wire rack.