Donut Drops are an easy dessert recipe that go fast. Hands will be snatching them up faster than you can blink!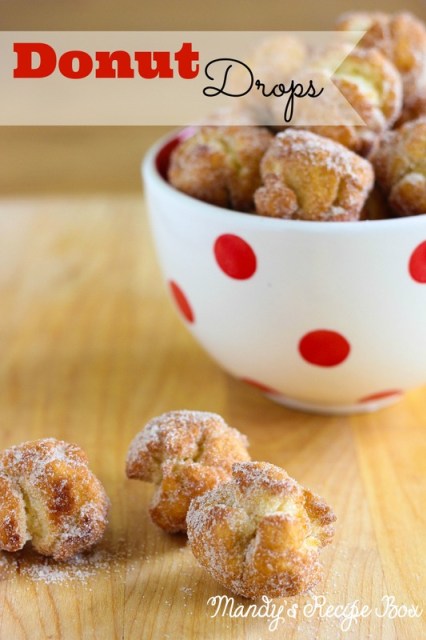 I love donuts. Or doughnuts. However you like to spell it. That isn't important. What's important are these delicious fried balls of amazingness. Yes, that's a word now. They are super fast and super easy and super addicting. You won't be able to stay away from these. I couldn't. My kids couldn't.
Donut Drops
Ingredients
2 eggs
1 C. sugar, divided
1 Tbsp. butter, melted
1 C. milk
1 tsp. vanilla bean paste or vanilla extract
3½ C. all-purpose flour
2 tsp. baking powder
⅛ tsp. salt
½ tsp. cinnamon
oil for deep frying
Directions
In a mixing bowl, beat eggs until light and fluffy.
Blend in ½ C. sugar, melted butter, milk and vanilla.
Add in flour, baking powder and salt.
Mix to make a soft dough.
Mix together cinnamon and remaining sugar; set aside.
Heat several inches of oil to 365 degrees in a deep saucepan or fryer.
Drop dough into hot oil by teaspoonfuls, a few at a time.
Fry until golden on all sides.
Drain on paper towels.
Roll in cinnamon sugar mixture while still warm.