I really love dessert pizza. I went to eat at a resteraunt and they had it there. So I decided to make it myself. Not much to it. I used store bought pizza dough, however, next time I will use homemade dough. It will taste so much better. Here is a recipe for the dough. Just make it into a round pizza shape instead of the breadsticks.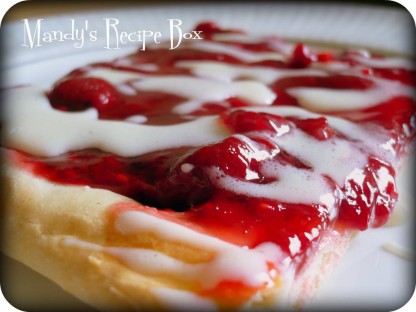 Dessert Pizza
1 crust for pizza
1 can pie filling of your choice
vanilla frosting (I used store bought and nuked it a little to make it easy to drizzle)
Prepare and bake pizza crust according to instructions on package or the recipe for dough. Pour on the pie filling and spread all around. Bake again for about 5 minutes to warm the filling. Remove from the oven and drizzle the frosting over the top. Try to wait for it to cool long enough that you don't burn the roof of your mouth, thus ruining your entire day.