I was looking for something to make for Lance and Preston to take as a snack for their father-son campout. Then I remembered this gift in a jar recipe I got at Christmas. It is something that you can adjust to your tastes by adding whatever dried fruit and nuts you want.
1 c. semisweet chocolate chips
1 c other chips (in this I had butterscotch but you could use peanut butter or whatever)
1 c Rice Crispies cereal
1/2 c dried fruit (I used craisins, but there's raisins, currants, plums etc.)
1/2 c chopped nuts ( I used macadamia nuts, or you can use peanuts, almonds, etc.)
In a microwave safe bowl, melt chocolate and other chips; stir until smooth. Stir in the cereal, fruit, and nuts.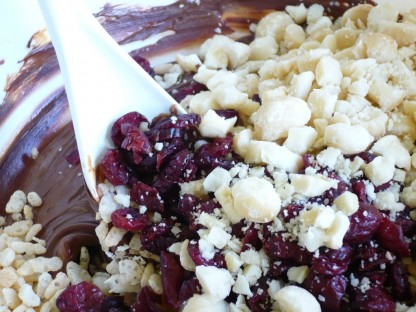 Drop by the spoonful onto wax paper-lined baking sheet. Refrigerate 15 min or freeze 5 min until set. This made about 1 dozen in the size I made.