These Crescent Cookies just scream "Christmas!" to me. My aunt's family is from Germany and she makes these for us all every Christmas. Only her way takes one week. Yes. One whole week. She doesn't use any spoons, mixers, nothing. Just her hands. And she makes a ton of them. Then they have to sit in the dark for a week. I look forward to them every year. She also makes another kind called "
Linzer Cookies
" They are similar to these Crescent Cookies only they are two layers with a cutout on the top and a jam filling. So easily my very favorite cookie on earth. No lie. I found this recipe in Gooseberry Patch's
Quick and Easy Christmas
.
I made them and they taste just like my aunt's. Almost. You know her's has that love all in it. But I think mine have some love, too. Case in point: It makes 4 dozen. I gave one dozen to my elderly neighbors and my 3 little kids and I ate another 1 dozen in about 43 seconds flat. I had to put the other 2 dozen out of reach so my husband could have a fighting chance at tasting at least one cookie. But come naptime/quiet time, I make no guarantees that will come true.
They are so buttery that they melt in your mouth. Literally. That's why we ate a dozen in 43 seconds. Maybe less.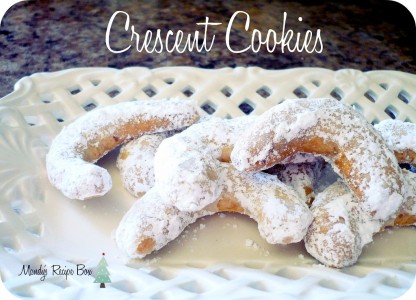 1 c. butter. softened
1/2 c. powdered sugar
1 tsp. vanilla extract
1 3/4 c. all-purpose flour
1 c. finely chopped pecans
Garnish: additional powdered sugar
In a bowl, blend butter and sugar with an electric mixer on medium speed  until smooth. Beat in vanilla. Gradually add flour with mixer on low speed. Add in the pecans. Place in the fridge about 30 minutes until dough is easy to handle. Shape into crescents by tablespoonfuls. Place onto baking sheet (I coated mine with Pam). Bake at 275 degrees for 38-40 minutes. Cool slightly, then roll in additional powdered sugar. Put on wire racks to cool completely.
Makes about 4 dozen.
Note: Don't even think about halving this recipe. You'll regret that so much.