I am posting an actual non-sweet recipe today. I get so excited for the Christmas season and the treats, but by the time Christmas comes, I've had my share of sweets. I am about to that point. Almost.
This soup is just like your traditional Chicken Noodle soup only a creamy version. It's so comforting.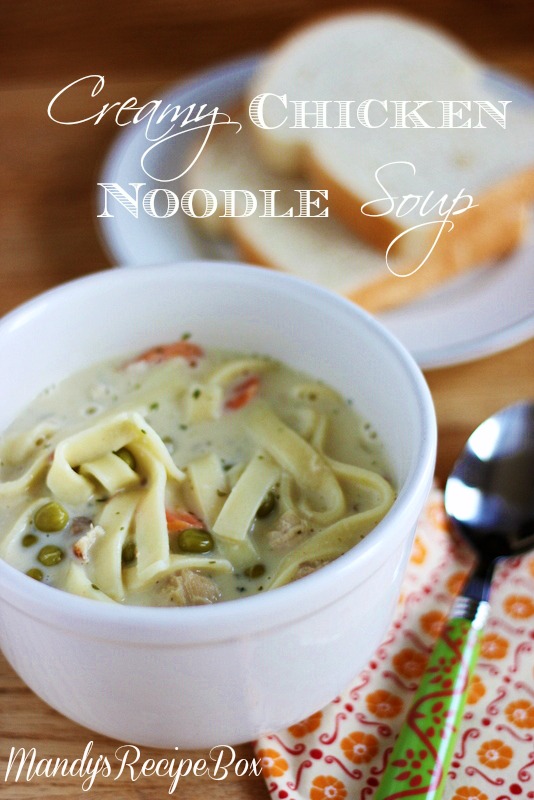 Preston was Santa in his school Christmas program. Since it is such a small school, we have a nice dinner afterwards for the guests. We're talking a sit down meal like ham or potato soup with tons of delicious sides and homemade rolls and desserts. I'm telling you…small, in-the-middle-of-nowhere living is the bomb diggity.
Creamy Chicken Noodle Soup
Ingredients
2 tablespoons butter
1 C. chopped onion
1 C. chopped celery (optional, I leave it out)
¼ C. fresh chopped parsley or about 1 Tbsp. dried parsley flakes
2 to 3 C. diced chicken
1 can (10¾ oz.) cream of chicken soup, undiluted
1 can (10¾ oz.) cream of mushroom soup, undiluted
5 C. chicken broth
1 scant teaspoon poultry seasoning
¼ teaspoon dried leaf thyme
¼ teaspoon pepper
2 cups frozen peas and carrots or canned
1½ cups heavy cream or half-and-half
4 ounces medium noodles, cooked and drained
salt to taste
Directions
In a large pot, melt butter over medium heat.
Add onion and celery and sauté until onion is tender.
Add the parsley, chicken, chicken broth, soups, poultry seasoning, thyme, and pepper.
Bring to a boil; reduce heat to medium-low and simmer for 20 minutes.
Add the peas and carrots, cover, and simmer for 10 minutes longer.
Stir in the cream or half-and-half, along with the cooked noodles; add salt to taste.
Heat through.