Creamy Broccoli Side Dish is a great way to use broccoli. It is sort of a mini casserole and you could surely add chicken and make it a main dish. We had it on the side of these Country Style Ribs and they went great together. My little Emma (3) loves her broccoli. She gobbled this right up.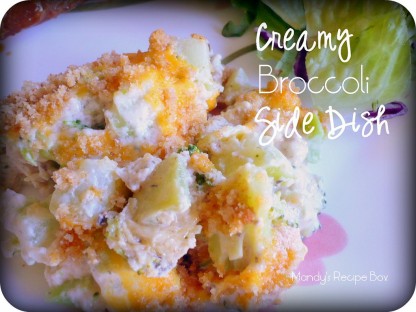 A side story about Emma and her broccoli…a family friend wanted Emma to go play with her. She's 9. Emma wouldn't do it. She wanted to stay with me. Well the little girl goes and gets a piece of broccoli (we were at a wedding shower) and says, "Emma…look what I have!" as she waves the broccoli. Well Emma hopped right up and grabbed the broccoli and went to play. It made me giggle.
Creamy Broccoli Side Dish
Ingredients
1 can (10-3/4 ounces) condensed cream of mushroom soup, undiluted
1 cup mayonnaise
1 medium onion, chopped
2 eggs, lightly beaten
6 cups frozen chopped broccoli, cooked and drained
1 cup (4 ounces) shredded cheddar cheese
1 tablespoon butter, melted
¼ cup soft bread crumbs
Directions
In a large bowl, combine the soup, mayonnaise, onion and eggs.
Stir in broccoli; pour into a greased 2-qt. shallow baking dish. Sprinkle with the cheese.
Combine butter and bread crumbs; sprinkle on top.
Bake, uncovered, at 350° for 30 minutes.