I shared these on
Cups by Kim
a couple weeks ago. So now I'm sharing them here.
I've dubbed it "The Crazy Brownie". It's part oatmeal cookie, part cake-like brownie. It's just crazy.
I baked these when my mom came to visit.
We like to make desserts.
Then I made it again when Lance was home. He still only got about 3-4 pieces of the stuff.
Hey. It's there in the fridge. Totally available.
Like I'm gonna deliberately give him some, when I know he doesn't remember it's there until he sees the pan mostly empty and says, "Well, I guess I better have some before you eat it all."
Hmph. Like that was even the case.
Oh, wait…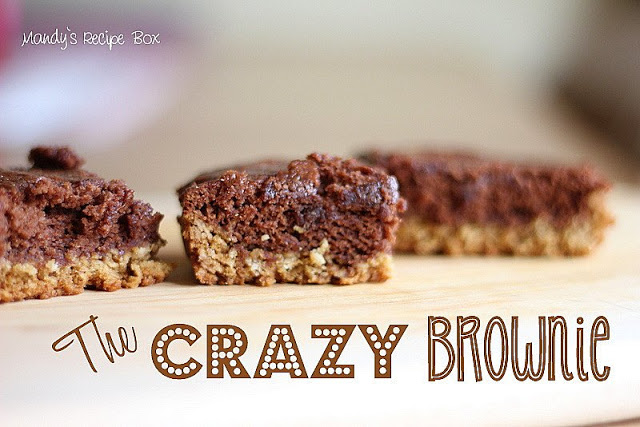 Crust
6 Tbsp. melted butter
1/2 c. brown sugar
1/4 tsp. baking soda
1/4 tsp. salt
1/2 c. flour
1 c. quick cooking oats
Mix butter, brown sugar, soda, salt flour and oats. Spread in a 9×9 or 9×7 pan. Bake at 350 degrees for 10 minutes.
Brownie
1/4 c. butter
1 oz. unsweetened chocolate
1 egg
3/4 c. sugar
2/3 c. flour
1/4 tsp. baking powder
1/4 tsp. salt
1/2 tsp. vanilla extract
1/4 c. milk
Melt butter and chocolate, set aside. Combine egg and sugar. Add to chocolate mixture. Beat well. Mix flour, baking powder, and salt. Add vanilla and milk. Beat together. Add to chocolate mixture and beat well. Pour over crust and bake another 25 minutes or until done. Cool completely before cutting.